Five Big Takeaways from CGS's First Virtual Summer Workshop
Like many other organizations, CGS shifted our summer meeting to a virtual format to protect the health of our community. Within a matter of weeks, we moved our 2020 Summer Workshop and New Deans Institute from the historic streets of Boston to your computer in order to ensure our attendees heard timely and useful presentations. While the pandemic was a consistent part of conversation, the primary focus was on how best to serve graduate students. Here are five major themes that emerged during the meeting.
Racial and social justice in graduate education has reached a new level of urgency. Racial and social justice was a consistent thread of this year's summer workshop, from the opening plenary through the last day of hot topic sessions. Presentations and subsequent discussions addressed this important topic in relation to a broad range of subtopics, including graduate student mental health, recruitment, career and professional outcomes, and matriculation. As opening plenary session speaker Earl Lewis said, diversity, equity, and inclusion in a COVID world must include many considerations, specifically health and safety, finances and liquidity, austerity and contingency, uncertainty and planning, and institutions and their communities.
Graduate deans are managing new and unprecedented challenges around student mental health and wellbeing. Perhaps the biggest takeaway on this topic was that presenters and participants are facing the same challenges, particularly with student experiences of feelings of isolation and loneliness, concerns about completion time, and the added stress and anxiety of the disruption. In addition, graduate schools with large online enrollments are learning more about what they could be doing to support a graduate student population that is in large part virtual.
Graduate student recruitment is focusing more on career and professional outcomes. Thinking more intentionally about career pathways and outcomes for graduate degree holders has increasingly become a focus, particularly as the tenure-track job market contracts. According to several presenters, students and potential students will increasingly ask institutions to give compelling evidence of how a particular credential will support their career goals.
Administration policies that affect international students are a major source of concern. Over the last 18-24 months, policies that negatively affect international students have outweighed favorable ones, and this has only been exacerbated during the pandemic. Concerns about changes in visa status and requirements, the ability of international students to begin or to continue their graduate study, and ways to provide financial support were primary themes during the meeting. It was clear from the discussion that graduate education leaders agree that international students are a vital part of our communities and ensuring they feel welcome and safe on campus is critical.
And of course, COVID was a consistent thread in our conversations. It's difficult to imagine a conversation that doesn't include COVID-19, given its pervasive, disruptive effects on virtually every facet of life. Presenters and participants raised concerns about how the pandemic threatens matriculation, particularly for graduate students from underrepresented groups; the health and safety of faculty, staff, and students; managing students' needs to access laboratories and other on-campus facilities critical to their research; and mentoring, teaching, and learning remotely.
With attendance rates that matched our in-person meetings and overwhelmingly positive feedback from attendees, our first virtual summer workshop was a success thanks to our members, presenters, and sponsors. As a benefit of Summer Workshop registration, we would like to remind you that virtual meeting attendees can also attend a series of learning community sessions designed as follow-ons to the opening plenary session, Graduate Education in a Post-COVID-19 World.  Links to participate in the learning communities have been sent to all Summer Workshop attendees. Below is the list of topics and times; we look forward to continued conversation and idea-sharing around these important topics!
BC to AD: Dawn of the Age (A discussion of how universities -and the entire educational system – will be transformed by technology and by COVID)
August 12: 2:30 pm – 3:30 pm EDT
Presenters: Michael Moe, Founder & CEO, GSV Asset Management and Deborah Quazzo, Managing Partner, GSV Ventures
Graduate Education in the Performing Arts for a Post-COVID World
October 1: 3:00 pm – 4:00 pm EDT
Presenters: Dwight McBride, President, The New School and Richard Kessler, Executive Dean for the Performing Arts, The New School
The Future of Public Service in Government
October 29: 2:30 pm – 3:30 pm EDT
Presenter: Tom Ross, President, The Volcker Alliance
The Future of Research Post COVID
November 10: 2:00 pm – 3:00 pm EST
Presenters: Mary Woolley, President and CEO, Research!America and David Kieda, Dean of the Graduate School, University of Utah
ETS/CGS Award for Innovation in Promoting Success in Graduate Education: From Admission through Completion
This program recognizes promising efforts in initiating or scaling up innovations in graduate education that occur from admission through successful completion of a degree program. It is designed to link innovative admissions practices with other institutional practices including, but not limited to, mentoring, support programs, intellectual enrichment, and social support, that will improve student success once students are enrolled in their graduate programs. This award program is especially geared toward encouraging innovations that promise to improve the success of a diverse and inclusive student population.
CGS member institutions are invited to submit proposals for a grant of $20,000 over a two-year period, an amount to be matched by $10,000 from the selected institution. The deadline for applications is September 10, 2020. For more information, visit the ETS/CGS Award page on the CGS website.
SURGING Ahead in the New Normal:  Wayne State University Rolls Out Innovative Pipeline Program for Non-Traditional Students
Ingrid Guerra-Lopez, Ingrid Guerra-Lopez, Director, Institute for Learning & Performance Improvement and Past Interim Dean of the Graduate School, Wayne State University
Background
Located in the heart of Detroit, Wayne State University is an urban research-intensive university where 33% of our undergraduates come from historically underrepresented and first-generation backgrounds. However, persistence to graduate school is low. Underrepresented students face numerous challenges that impact their access and success in graduate education, including tuition costs, work and family responsibilities, feelings of isolation on campus, and a lack of support structures. Among these roadblocks, the cost of higher education represents a significant barrier for low-income students, who attend and graduate from college at lower rates than their higher-income peers.
Wayne State's commitment to diversity and inclusion is strong and clearly articulated in our institution's strategic plan. To that end, we offer a continuum of training and pipeline programs ranging from pre-freshman, undergraduate, graduate and postdoctoral to early faculty communities, particularly in STEM. Still, there was a need for a program spanning a wide variety of disciplines that would provide the necessary support to help students from minority and low-income backgrounds overcome the additional challenges they face in transitioning from undergraduate to master's programs.
Program Description
To address this gap, in Summer 2019 we developed an innovative pipeline program called Success for Underrepresented Students in Graduate Education (SURGE) and applied for funding from the ETS/CGS Innovations in Promoting Success in Graduate Education program. As part of the program's design, SURGE is coordinated by the Graduate School and guided in partnership with four long-standing student success initiatives on campus: The Center for Latino/a Studies, McNair Scholars, the Office of Multicultural Student Engagement (OMSE) and the Academic Success Center. This helps us leverage existing resources, tap into evidenced-based practices to develop a recruitment strategy, and launch an application/nomination process and select mentees and mentors for the first cohort. We envision 30 mentees and 15 mentors in the first year. As the program progresses, we will collect regular feedback from mentors and mentees and conduct mentor support group meetings. At the end of the first year, we will assess program outcomes as it relates to both mentors and mentees and make enhancements as needed before year two. Our three-pronged approach to remove obstacles and provide critical support consists of the following:
Peer Mentoring: We pair undergraduate students from underrepresented backgrounds with graduate mentors. During the academic year, mentees and mentors engage in one-on-one interactions. We expect these conversations to focus on how the mentors selected a graduate program, ways to work with faculty mentors, exploration of relevant graduate programs, and information on how to complete a successful graduate school application. These discussions will provide a psychosocial support network to help students develop a sense of belonging, a growth mindset and ways of reducing "imposter syndrome." We expect mentors to conduct a minimum of two one-on-one mentoring meetings per semester, communicate regularly with their mentee to answer questions and offer advice, and attend SURGE virtual events with mentees.
Mentee and Mentor Training: Graduate student mentors will hone their skills and participate in leadership training, including inclusive mentoring, which in turn will provide them with essential skills for their own careers upon graduation. Mentees will participate in graduate application boot camps, financial literacy seminars, and workshops to equip them with a variety of skills including how enhanced communication of critical thinking, writing purpose statements, preparing for interviews, GRE preparation, selecting faculty and career mentors and managing conflict and stress.
Reduced Time-to-Degree and Cost of Degree: The third and final component is scholarship funding for students who have completed the program and have been accepted into a master's program. Currently, Wayne State offers a program called Accelerated Graduate Enrollment (AGRADE), which enables highly qualified seniors to enroll simultaneously in undergraduate and graduate programs and to apply up to 16 credits toward both the undergraduate and graduate degrees. AGRADE scholarships provide critical support by reducing both the cost and time required to complete a master's degree. Five of Wayne State's schools and colleges currently offer AGRADE programs as of Fall 2020 and additional programs are being proposed. Students who may not necessarily want to participate in an AGRADE program, but do want to pursue an advanced degree, are not excluded from SURGE. They will be encouraged to apply and will be provided with resources and strategies to finance a graduate degree and avoid taking on unnecessary debt.
Program Roll-Out 2020
An advisory committee of various stakeholders was assembled to help inform and finalize program goals and objectives. And then the pandemic hit. As it swept across the country, Wayne State, like other universities around the world, closed campus and moved to remote learning in mid-March. Online courses and operations have continued through the spring and summer, and it has become clear that program development and delivery needs to adapt to our current realities. As we write, the university community is still working on plans for Fall 2020, including what can be done remotely and what can be done on campus while adhering to health and safety guidelines.
In this context, the current development and facilitation of SURGE activities will be virtual and move ahead with the aim of providing students with additional opportunities for engagement and community. Program recruitment and marketing are being conducted online through email marketing, social media, virtual town halls and videoconferencing. Mentors and mentees will connect for one-on-ones using a variety of digital tools. Orientations for mentors and mentees, the kickoff event, and all workshops and training will be conducted remotely for this initial year.
Moreover, the brutal injustice of George Floyd's death at the hands of police has galvanized people across the nation to speak up and take action against systemic racism across all aspects of society. Our commitment to diversity and inclusion remain a top priority and the values that originally inspired SURGE are stronger than ever. The need to provide fair and equitable access to graduate education and support academic and career success is particularly critical as we move forward into a recovery phase. A recent Strada Education Network study featured in Inside Higher Ed revealed that the pandemic has disproportionally affected people of color, finding that they are more likely to have lost jobs, to worry about the loss of their jobs, and to have cancelled or changed education or training because of the pandemic. Further, the study reports that many of these students will seek additional training at online universities, community colleges or through employer-based training, but not at traditional universities.
Summary
As these realities unfold, it is imperative that urban universities remain a gateway to higher education and an engine of upward mobility for underrepresented students. The importance of retaining and engaging students, whether undergraduate or graduate, has never been clearer to our nation. Programs such as SURGE may be a small drop in the bucket, but they help us address key challenges and provide a pathway for students from all backgrounds to reach their full potential. We hope this model can be of value to other institutions as they develop pipelines of graduate students from diverse backgrounds. We extend our sincere thanks to ETS/CGS for funding this important project at a critical time in higher education.
Strengthening Communication and Community: the Multiple Roles of Broad-Based Graduate Support Programs
Jovana Milosavljevic Ardeljan, Jessica A. Bolker, and Caroline R. Kanaskie, University of New Hampshire
INTRODUCTION
The benefits of writing programs that serve graduate students are well known (Simpson et al, 2016). Providing this support has been a high priority for many graduate school deans/leaders, who view it as a way to improve time to completion, retention, and graduation rates. [i] Programs that help graduate students develop oral communication skills and the ability to communicate effectively to non-academic audiences have also been growing, as illustrated by rapidly increasing participation in the international Three Minute Thesis (3MT®) competition (https://threeminutethesis.uq.edu.au/about).
In the course of our work at a mid-sized public research university, we've discovered that programs designed to support graduate writing and communication skills have important benefits beyond their intended outcomes: along with supporting thesis-writing and skill development, they bolster graduate students' sense of community and overall well-being. This unexpected payoff further increases the value of communication programs, by helping to address all-too-common challenges related to mental health and social isolation.
We here report findings based on four years of data from communication support programs we have organized for graduate students at the University of New Hampshire (UNH), an R1 public university in New England. Our data are based on graduate student interest and program evaluation surveys; for details, see endnote. [ii]
BACKGROUND
Many institutions offer both discipline-specific and broad-based programs to meet graduate students' needs for writing support. Examples include "dissertation writing support (Allison, Cooley, Lewkowics, & Nunan 1998, Simpson 2013), courses on graduate writing (Aranha, 2009; Delyser, 2003; Fredericksen & Mangelsdorf, 2014; Frodesen, 1995; Norris and Tardy, 2006), graduate writing fellows programs (Simpson, Clemens, Killingsworth, & Ford, 2015), facilitated writing groups (Aichinon & Guerin, 2014; Phillips, 2012), and peer tutoring programs (Phillips, 2013)" (Caplan and Cox, 2016, p.23).
At UNH, we've developed a diverse set of programs over the past six years, expanding from a single writing retreat with eleven participants, to eleven communication support programs with over 200 participants (Figure 1; Tables 1a, 1b, and 1c). Communication support programs offered through the UNH Graduate School serve students across the university, representing a full range of disciplines from STEM to humanities (Table 2). The benefits of this central resource provided by the Graduate School accrue not just to individual students, but also to the institution as a whole, helping maintain UNH's R1 status and building its reputation.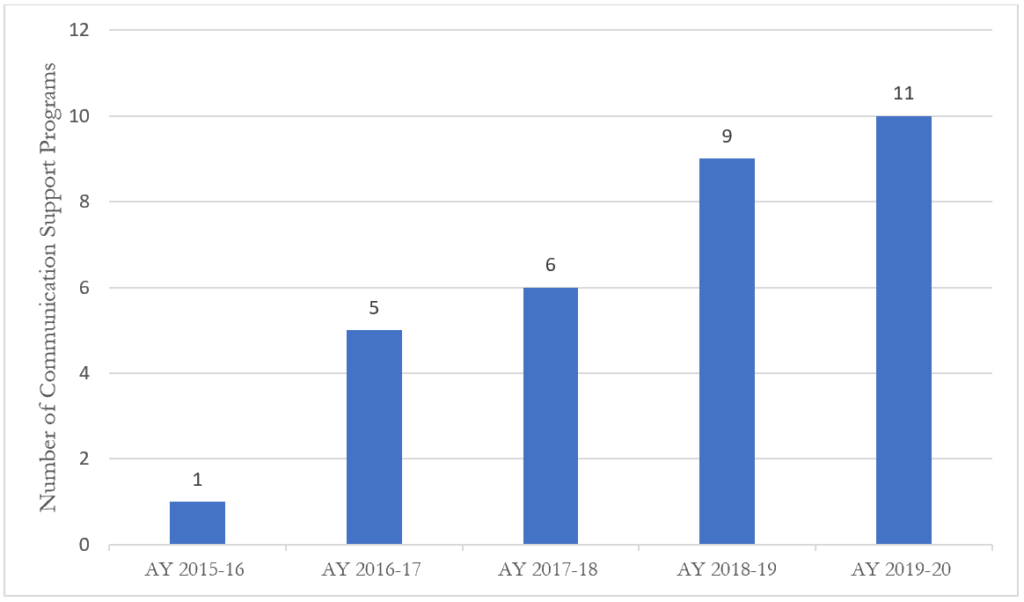 Figure 1: Growth in communication program offerings.
The sole program offered in AY 2015-16 was a one-week winter writing retreat. In AY 2019-20, we offered weeklong writing retreats in winter, spring, and summer, a monthly dissertation and thesis writing retreat, graduate working/writing time, a five-day research communication academy, and a series of six workshops to help students prepare Three-Minute Thesis presentations (see Table 1).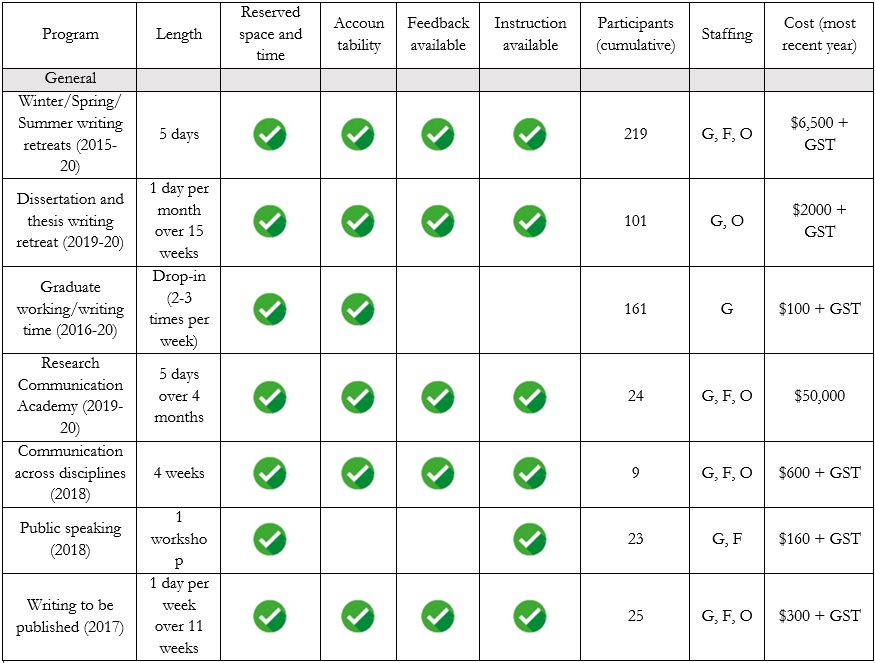 Table 1a. List of general communication support programs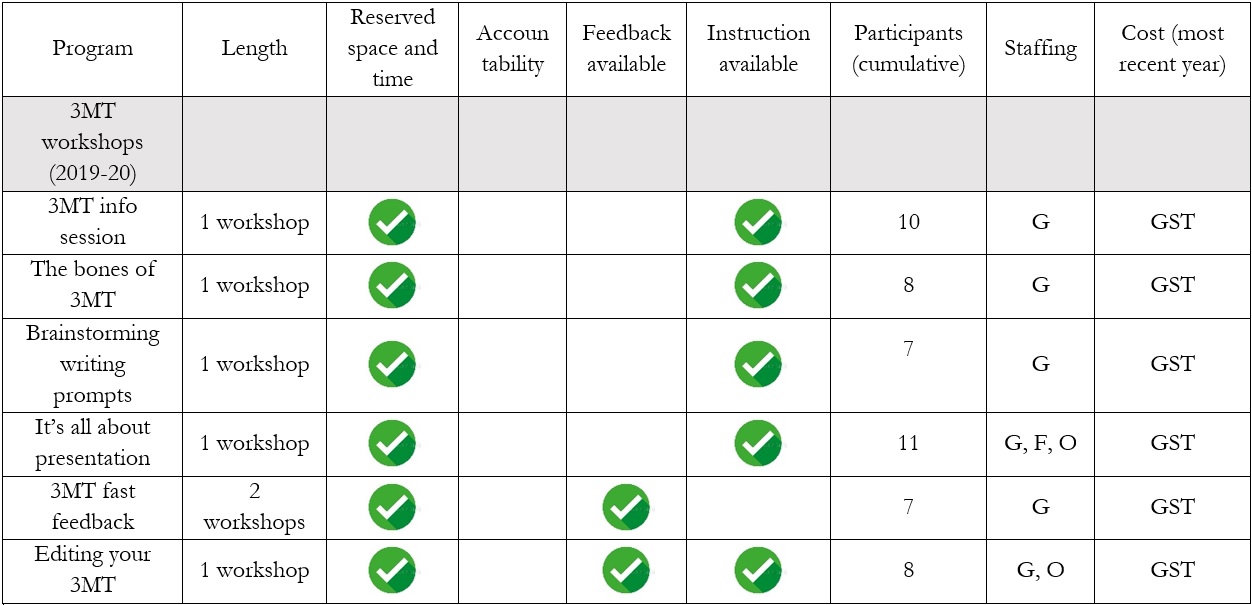 Table 1b. List of Three Minute Thesis workshops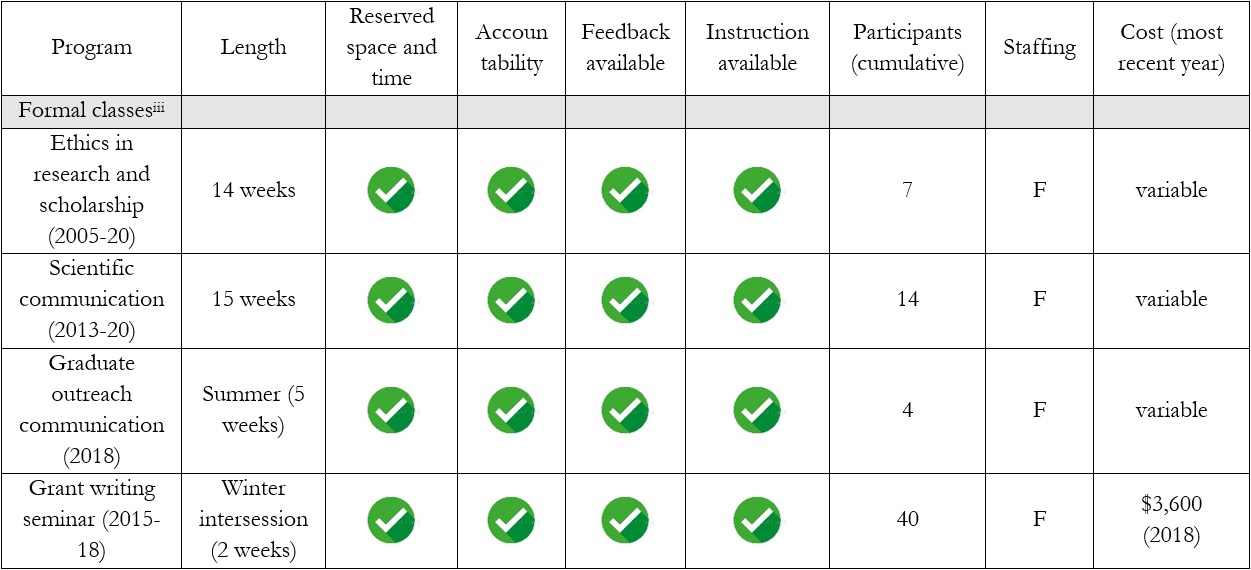 Table 1c. List of formal classes on communication
Tables 1a, 1b, and 1c: List and attributes of communication support programs offered at UNH (2015-2020).
Participant numbers are cumulative, and represent unique participants (e.g. if the same person attended multiple days of the same event, they count as a single participant). Returning participants are re-counted each year. Abbreviations for staffing: G = Graduate School staff (grad assistants); F = faculty; O = Other, e.g. library, health services, writing center. Listed cost is for the most recent year the program was offered, and does not assign a dollar value to graduate school staff (e.g. graduate assistants) time (noted as "GST"). Costs for formal classes vary depending on credits and tuition level.
| | | |
| --- | --- | --- |
| Field | Students participating | Average days attended |
| STEM | 105 | 3.1 |
| Liberal arts | 50 | 3.4 |
| Interdisciplinary | 39 | 3.1 |
| Business | 4 | 4.0 |
| Other | 4 | 2.0 |
Table 2: Disciplinary area of writing retreat participants from 2017 to 2020.
Numbers are cumulative; students who participated in multiple programs are re-counted each time.
ATTRIBUTES OF SUCCESSFUL PROGRAMS
We've learned a lot from our students about what makes programs work. We offer different types of support, including targeted workshops to help with specific tasks (such as 3MT preparation), formal classes, and ongoing opportunities for students to come together to work on their own writing projects; programs vary widely with respect to length, format, and degree of formal instruction (Tables 1a, 1b, and 1c). Because our programs serve students from all disciplines, at all stages of their journey through graduate school, participants' needs are diverse; nevertheless, key themes emerge from the anonymous surveys we send to all participants, as well as in comments volunteered in person or by email.
What we hear from our students aligns with what's been reported elsewhere: sustained programs rather than one-off events are most effective (Caplan & Cox, 2016). Our students place the highest value on designated/protected time and space to do their own work — with instruction and feedback available, but not necessarily required. (Food and caffeine are, of course, key ingredients.) All of these features are built into UNH's winter writing retreat, our most popular – and rapidly-expanding – program (Figure 2). The retreat offers dedicated space and time for writing, along with access to support from faculty consultants, the university writing center, and the library. Participants are fueled by free-flowing coffee and tea, homemade cookies, and a healthy lunch. Workshops are optional: students can choose whether to attend them or spend all day writing. Two faculty members (one from humanities and one from the sciences) are available to provide feedback on writing projects or answer general questions. We celebrate community as well as productivity at the end of the week, with a big cake, prizes for the most dedicated participants (those attending for four or five days), and announcements of upcoming programs that students can use to maintain the scholarly momentum and supportive relationships they've developed through the program.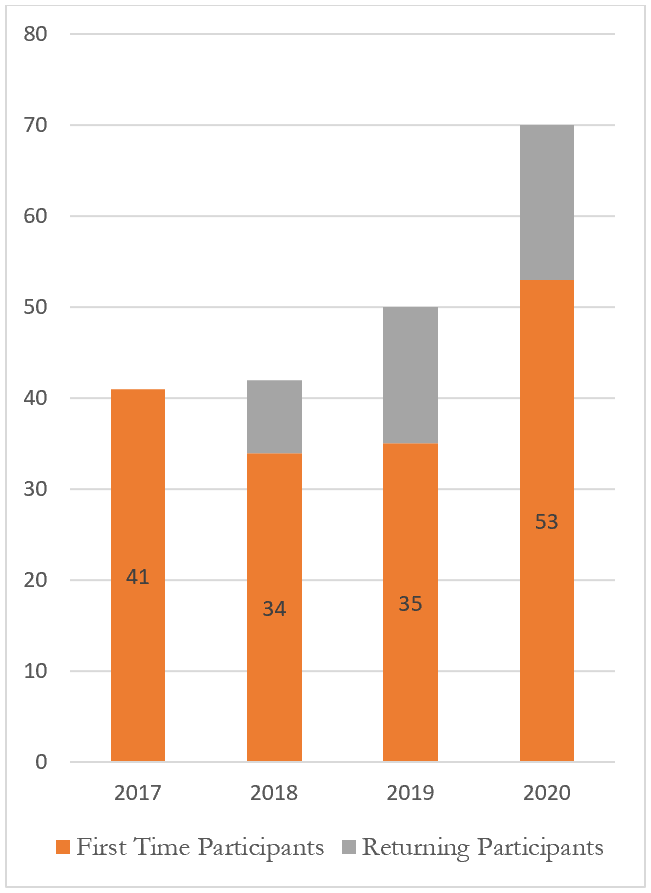 Figure 2: Growth in participation in writing retreats.
The first writing retreat (January 2015; data not shown) served 11 students; the most recent (January 2020) served 70. 70% of the participants who took the evaluation survey for the Writing Retreat 2020 said they would participate in the next retreat if they were available and still at UNH. Note that many of the first-time participants are in the final stage of their studies so most of them graduate before the next retreat is offered, thus the lower number of returning students does not mean they were not interested in participating again.
Many students take advantage of the opportunity to focus on their writing for a day or a week, and lots of work gets done: according to a survey completed by 34% of students attending the January 2020 retreat, participants worked on projects including theses and dissertations, preparation for candidacy exams, scholarly publications, grant proposals, data analysis, conference preparation, and job applications. In addition to describing their academic productivity, students note in their feedback that the daylong presence of fellow students/sufferers, and the chance to chat over lunch or coffee, provides a welcome opportunity to build relationships and find community.
IMPLEMENTATION
Conference presentations about our communication support programs regularly elicit the same two questions: How to set up such programs, and how to pay for them.
The first step is to find out what your students are looking for. Graduate students at UNH fill out an annual interest survey about what kinds of support they are seeking, and at the end of each program we ask participants what we can do better and what else we can provide. Besides sending out surveys, having graduate assistants run programs is another source of insight into what students need and what they are struggling with: stories shared with peers often provide rich information.
Whatever the source of the data, programs that address writing and communication are perennial requests. Our students place the highest value on formal weeklong programs, in contrast to casual drop-in working/writing space (the latter required ongoing promotion by Graduate School staff, and withered without that support). They prefer long blocks of reserved time for writing, with a range of resources available (e.g. faculty, library staff, writing center consultants). Physical space is important: an ideal venue offers a lot of room for people to spread out, access to power outlets, daylight, and both quiet space for writing and areas where students can work with peers or meet with consultants. If your campus has little or no dedicated space for graduate students, consider offering programs during school breaks when undergraduates are away. Another advantage is that it's often easier for graduate students to set aside substantial time for writing when school is not in session.
Most of our programming budget is spent on food (generally $8-10 per student, per meal); this cost scales directly with program size. One strategy we've used to try to balance healthy nutrition and a healthy budget for our weeklong retreats is to partner with local businesses, for example by asking a local restaurant to design a menu that we can afford. For our smaller programs, we work with dining services: we buy a meal plan and request reserved tables for our students in the main dining hall. Discussions over meals (often facilitated by graduate school grad assistants) help build community, and also allow us to meet needs and make adjustments in real time, such as unlocking rooms early in the morning for students who want to begin working before the official start time.
Organizing and running effective communication support programs is a major undertaking that requires both financial and human resources. Different universities have different models for organizing such programs [iv] and [i]; at UNH, it requires the joint efforts of a supportive dean, several graduate assistants, and a few core faculty. Everything else is done through partnerships with other campus organizations: the writing center, university library, communications office, career center, health and wellness services, etc.
The graduate school dean plays a critical role in supporting these kinds of programs — not just by providing necessary resources, but also by recognizing outcomes that are deeply important to graduate students' academic productivity and overall well-being, but can be difficult to measure and quantify.
BEYOND COMMUNICATION: SUPPORTING STUDENTS' MENTAL HEALTH AND WELL-BEING
The goal of our first writing retreat in 2015 was simply to give students quiet space where they could work with their peers and not worry about getting food for the week. However, we soon heard from participants that the program offered important benefits that went well beyond what we'd planned or expected. In addition to affording a venue, programs such as week-long writing retreats also generate a strong sense of community, which students consistently mention as one of the most important benefits.
One writing retreat participant reflected "I wish every day of my graduate school experience was like this: working in a quiet room with dozens of other graduate students from across the university gave me that 'we're all in this together' resolve, and also a sense of accountability that made me more productive."
Communication support programs can do more than just strengthen students' academic skills: they may play an important role in addressing the isolation and stress that affect not only graduate students' productivity but also (and perhaps more importantly) their well-being. Maintaining good mental health is increasingly recognized as a critical challenge for graduate students (Flaherty, 2018; Wedemeyer-Strombel 2019; Evans et al., 2018; Pain, 2018; New initiative to support graduate student mental health and wellness, 2019) – and it turns out that programs originally designed to foster students' communication skills can also contribute to their mental health. Our students realized before we did that writing retreats can help alleviate some of the pressure of being in graduate school: one survey respondent described the retreat as not just a chance to get some work done, but "an amazing (and unanticipated) boost for my mental health/self-esteem/confidence, motivation, productivity, and general attitudes towards school."
Students in our communication support programs consistently note benefits to their personal well-being as well as their academic progress. In addition to reporting increased productivity, participants describe a welcome sense of community, reduced isolation, and the useful revelation that they are not alone in their struggles: their peers also find writing difficult, and encounter many of the same challenges. One survey respondent noted that the winter writing retreat "is usually my most productive week of the year, and I think it's because there's an atmosphere of accountability and everyone working together in the same space." Another wrote that "my concentration level was at least twice better than usual…this sense of community helped me to stay productive and motivated." Programs also provided the opportunity to meet people and develop a diverse network of peers: the same student went on to say that she "learned a lot from other graduate students in different fields, and exchanging different ideas that I might not have had access to otherwise was very valuable."
Recognizing that students' needs for community, networking, and social contact are already being served (to some extent) by communication support programs, we can deliberately design programs to maximize those benefits as well as improve targeted skills. Indeed, our students have taught us that the elements that make a program effective for its strictly academic purpose (e.g. increasing writing productivity or the ability to communicate with non-academic audiences) largely overlap with what's needed for these other functions (Table 1).
CONCLUSION
Communication support programs for graduate students require resources: the time, effort, and funding needed to launch and sustain such programs represent a critical investment on the part of graduate schools and deans. The return on that investment is usually measured in completed theses, published papers, successful conference presentations and funding proposals. However, those measures may be missing some of the outcomes that matter most to students.
Our experience over the past four years has convinced us that there are additional benefits for participants: increased sense of community, well-being, and mental health. These payoffs are harder to quantify, but are essential to our students' success in graduate school and beyond. Communication support programs offer opportunities for students to build communication skills and make concrete progress on specific projects – while also reaping the intangible benefits of participating in a productive community of scholars
Jovana Milosavljevic Ardeljan is a PhD candidate in Education: Leadership and Policy Studies at UNH, whose research is on graduate student communication support. She is also a graduate assistant in UNH Graduate School and has four years of experience in creating, organizing, and delivering communication support programs. Dr. Jessica A. Bolker is a professor in the Department of Biological Sciences at UNH. She is also a faculty fellow in Graduate School working on providing communication support to graduate students among other duties. She has over 20 years of experience teaching formal and informal communication support courses and programs. Caroline R. Kanaskie is a PhD student in Natural Resources and Earth Systems Science at UNH. In fall 2019 she also became a graduate assistant in UNH Graduate School working on programming, which includes creating, organizing, and delivering programs for graduate students on a wide range of topics, including communication support.
REFERENCES CITED
Caplan, N., & Cox, M. (2016). The state of graduate communication support: Results of an international Survey (pp. 22-51). In Supporting Graduate Student Writers: Research, Curriculum, and Program Design edited by Steve Simpson, Nigel Caplan, Michelle Cox, and Talinn Phillips.​
Evans, T., Bira, L., Gastelum, J. et al. Evidence for a mental health crisis in graduate education. Nat Biotechnol 36, 282–284 (2018). https://doi.org/10.1038/nbt.4089
Flaherty, C. (2018). Mental health crisis for grad students. Inside Higher Ed. https://www.insidehighered.com/news/2018/03/06/new-study-says-graduate-students-mental-health-crisis
New initiative to support graduate student mental health and wellness. (2019, August 20). Council of Graduate Schools. https://cgsnet.org/new-initiative-support-graduate-student-mental-health-and-wellness
Pain, E. (2018). Graduate students need more mental health support, study highlights. Science. https://www.sciencemag.org/careers/2018/03/graduate-students-need-more-mental-health-support-new-study-highlights
Simpson, S., Caplan, N., Cox, M., & Phillips, T. (Eds.) (2016). Supporting graduate student writers: research, curriculum, and program design. Ann Arbor, MI: University of Michigan Press.
Wedemeyer-Strombel, K.R. (2019). Why we need to talk more about mental health in Graduate School. https://www.chronicle.com/article/Why-We-Need-to-Talk-More-About/247002
[i] Milosavljevic Ardeljan, J. (2020). Graduate school deans' and professional development leaders' views of graduate student communication support [Unpublished manuscript]. Education Department, University of New Hampshire.
[ii] Based on survey data collected between 2017 and 2020 about writing support (247 respondents), and 2018-2019 Graduate Student Interest Surveys (~881 respondents to ~2500 survey invitations). Data were collected with UNH IRB approval, and are available upon request.
[iii] UNH course numbers: Ethics in research and scholarship, GRAD 930; Science communication, BIOL 950; Graduate outreach communication, GRAD 932; Grantwriting Seminar, GRAD 935. Course descriptions are available at https://catalog.unh.edu/graduate/course-descriptions/ .
[iv] Milosavljevic Ardeljan, J. (2020): Review of 20 broadly-based graduate school communication support programs in Northeast America and Canada [Unpublished manuscript]. Education Department, University of New Hampshire.
New CGS Deans & Titles
Stephanie Bellar, Dean, School of Graduate Studies, Salem State University
Amanda Bryant-Friedrich, Dean, Graduate School, Wayne State University
David Cleveland, Interim Dean of the Graduate School and Continuing Education, Valparaiso University
Michael Crowder, Associate Provost and Dean of Graduate School, Miami University
James Delle, Dean, College of Graduate Studies and Adult Learning, Millersville University of Pennsylvania
Benton Duncan, Interim Dean, College of Graduate and Interdisciplinary Studies, North Dakota State University
Susan Ettner, Interim Dean, Graduate Division, University of California, Los Angeles
Christopher Finelli, Dean of the Graduate School , University of North Carolina at Wilmington
Robin Garrell, President, City University of New York Graduate Center
Amanda Godley, Vice Provost for Graduate Studies, University of Pittsburgh
Debra Jackson, Interim Associate Vice President for Academic Affairs and Dean of Academic Programs, California State University Bakersfield*
Stephanie Jirard, Interim Associate Provost of Graduate Studies, Shippensburg University
John Jones, Associate Vice President Academic Administration and Dean of the School of Graduate Studies, Alabama A&M University
Laurie Maffly-Kipp, Vice Provost for Graduate Education and interim Dean, Graduate School, Washington University in St. Louis
Ruth Martin, Associate Vice Provost, School of Graduate Studies, Western University
Kelly Mayo, Interim Associate Provost for Graduate Education and Interim Dean of the Graduate School, Northwestern University
Nicole Stanton, Provost and Senior Vice President for Academic Affairs, Wesleyan University
Jennifer Sullivan, Interim Dean, Graduate School , Augusta University
Brad Swanson, Interim Director of Graduate Studies, Central Michigan University
Michael Van Scott, Interim Vice Chancellor of Research, Economic Development and Engagement and Senior Associate Vice Chancellor, East Carolina University
Roger Ward, Interim Provost, Executive Vice President, and Dean of the Graduate School, University of Maryland, Baltimore
Elizabeth Wentz, Vice Provost and Dean, Graduate College, Arizona State University
Floyd Wormley, Associate Provost for Research & Dean of Graduate Studies, Texas Christian University
*Deans at new CGS member institutions
New CGS Members
California State University Bakersfield – Returning