Valuing the Impacts of Diverse Careers: Next Steps for the CGS Community
Suzanne T. Ortega, President, Council of Graduate Schools
As I reflect on our 59th Annual Meeting in Nashville, one of the sessions I am still mulling over is Ann Patchett's plenary presentation, "Art with Impact." Patchett, a best-selling and critically-acclaimed novelist, spoke to the CGS membership about her journey through an MFA program, through life as a struggling novelist and then as a highly celebrated one, and finally as a business owner who draws on her literary influence to operate a successful bookstore in Nashville. Patchett's bookstore is, in many ways, a microcosm of the thriving, democratic society I described in a GradEdge article I wrote following the 2016 election: a place where members of the public can come together to exchange and debate ideas, and where the diversity and similarity of human experiences can be explored through books portraying a variety of human lives and interests. Patchett's talk suggested, as my own essay did, that the humanities and arts have a unique role to play in building community.
But who, beyond Patchett and the many lovers of her bookstore, are assessing the substantial impacts that she is having on the community of Nashville and beyond? And why does it matter? I would argue that these are important questions for the graduate education community to consider. For those of us who are interested in supporting career diversity for our graduates, we need to make sure that we send consistent messages about the value of different types of work. Right now, our emphasis is on publication metrics, to the exclusion of other types of contributions to knowledge and to society. This is true in the sciences as well as the humanities.
Try this thought experiment: if a university's tenure and promotion committee were evaluating Patchett's professional outcomes, her publications, along with her teaching and any service to her institution would surely be counted and assessed. But it is possible, and quite likely, that the impacts she is having in her community would go overlooked. Or imagine this: if a graduate program was assessing the impact of Patchett's MFA training, would her bookstore and its impact on her city be part of the story? Probably not. Based on examples from her talk alone, we would overlook her work to improve literacy and life-long reading habits for children and families in her region, to provide opportunities for the public to engage with innovative thinkers and speakers, to support the local economy, and to encourage civic engagement (Patchett's bookstore is now promoting her new children's book on voting).
Now Patchett is not up for tenure or promotion at a university, and she is a producer first and foremost of literary works, not academic scholarship. But I hope you'll get the point of my thought experiment. There is a great deal of valuable, publicly engaged work performed by artists and humanists, and a growing interest inside the academy in producing work that engages and benefits wider communities. There is a parallel interest in the sciences in community-based research that may yield policy briefs, urban redevelopment or transportation plans, public health initiatives, databases and other resources of great value to the public. Given public expenditures on our research and scholarship and taxpayers' legitimate interest in the value of their investments, it is critical that we learn to better evaluate this work and to create incentives for those who do it well.
In the humanities, much of this publicly engaged work falls under the umbrella of the "public humanities," or work that "reaches broad and diverse public audiences and make[s] use of a variety of formats—interpretation at historic sites, television and radio productions, museum exhibitions, podcasts, short videos, digital games, websites, mobile apps, and other digital media" (NEH). Large funders such as the National Endowment for Humanities and the Andrew W. Mellon Foundation, concerned that the humanities need to reach wider communities, have made significant investments in this type of work. This has helped the public humanities—originally conceived as an alternative to academic and institutional definitions of humanities work (Schroeder 2017)—move from the margins closer to the center. But while humanities faculty may be in a slightly better position to secure grants for this important work, universities themselves still struggle to adequately assess and reward work that does not take the form of a traditional publication.
In the sciences, the National Science Foundation, the Alfred P. Sloan Foundation and others have funded initiatives that promote the public understanding of science, and indeed, most of us are familiar with the public-facing "broader impacts" statements that are part of any funding request to NSF. But while NSF reporting forms may invite grantees to share the full range of knowledge products that have resulted from work on a grant, university tenure and promotion systems do not always provide credit for producing datasets, websites, and other tools that may be of broad use to the scientific community. And the undervaluing of careers outside of the academy—careers that often result in the production of non-traditional forms of scholarship—is, as in the humanities, a persistent problem.
Toward Better Assessment Approaches
Some progress has been made. The PhD Career Pathways project, supported by the National Science Foundation and the Andrew W. Mellon Foundation, has begun to make some of the outcomes of doctoral training, and of humanities doctoral education in particular, more visible. Based on the data collected by the 70 universities participating in the project, we now know more about how PhDs across all fields view the relevance of their training to their careers, about their satisfaction with the degree, and about the skills they see as most important to their work. Looking beyond employment outcomes, however, we need to enlarge our vision of scholarly products. Faculty tenure and promotion policies, for example, often continue to depend on written products, particularly peer-reviewed journals, but may undervalue the creation of databases, the preservation of artifacts, and community-engaged research and scholarship. Early career scholars, including graduate students, may be exposed to other scholarly products, but what is rewarded—written products such as journal articles and books published by major university presses—remains the same.
The fact that a large percentage of doctoral recipients find careers beyond the academy makes it even more important to address this problem. Understanding, assessing, and valuing emerging and public forms of scholarship in the humanities will help us better measure the impact of investments in humanities training. In the sciences, being able to articulate the findings and value of diverse research findings and modalities may buttress public trust in science. In light of these priorities, we must ask questions such as: "What counts as a piece of research or scholarship? How can universities better assess the contributions of multi-modal scholarship to the field and to the public? How might early career scholars be initiated into the methods and techniques needed to thrive in this changing landscape? How might seasoned faculty be rewarded for mentoring students to do this work?"
The Council of Graduate Schools (CGS) and the American Education Research Association (AERA) are already exploring these issues in STEM fields, and with support from NSF (grant numbers 1944784 and 1944873), will jointly host an August 2020 workshop to develop actionable steps to address them.  It is crucially important to expand our effort to include the humanities in the scope of work. So, toward this end, we will be convening a parallel event focusing on broadened definitions of scholarship in humanities disciplines as well as ways to reward mentorship that encourages diverse humanities careers and modes of scholarship. This initiative will build upon complementary work being conducted by the American Historical Association, Modern Language Association, Imagining America at the University of California, Davis, and HuMetricsHSS at Michigan State University.
Why this work matters
These initiatives, designed to expand definitions of research and scholarship, build on the Council's efforts to support career diversity in all fields, which we are now building upon with continued Mellon support for The Humanities Coalition. But there are other, important benefits to our efforts.
First, publicly engaged research and scholarship, and research that is widely disseminated in non-traditional forms, helps to ensure that the public sees the benefits of work produced by people with a graduate education, whether they work inside the academy or beyond. This is a link that all of us are trying to make on our campuses through advocacy efforts. We can make this case more strongly if the public is able to participate in, understand, and observe the work of researchers, scholars and practitioners with graduate training. It goes without saying that we need to forge this link with our communities if we want to ensure that graduate education and research will continue to grow and to thrive.
Second, understanding the impacts of publicly engaged scholarship and the value of scientific products that enable new technologies has the potential to help support diversity and inclusion. There is strong evidence to suggest that underrepresented and first-generation students are deeply invested in work with both an academic and social impact. If we are to better recruit underrepresented students to our programs, support their transitions to faculty roles, and reward the research and scholarship they produce, we must find a way to expand our incentive systems. As we consider these and other benefits, CGS will be looking to our member institutions and other experts for their insights and ideas.
What deans can do
What can deans and graduate schools do to engage in this work? First, we hope that you will share with CGS examples of your campus efforts to broaden definitions of scholarship in the humanities and sciences, and to reward mentoring for diverse careers. The CGS network is interested in your work to inform changes in tenure and promotion policies and to reward faculty members who are mentoring students in the development of new forms of scholarship. Please share these examples with me at president@cgs.nche.edu.
Second, I encourage member deans to help give greater visibility to graduate students in all disciplines who are engaging in high-impact work. There are several ways to do this. The GradImpact project, a collection of stories about graduate education improving lives, features rotating profiles of graduate students and alumni improving human lives and communities. As you may have heard me say before, we are seeking more stories from master's and doctoral students involved in innovative research and scholarship that is expanding knowledge in their fields and strengthening our connections to one another. However, we particularly need more stories of artists and humanists having an impact, such as Nabila Hijazi's work to create language programs designed to attract multi-lingual students (English Language and Literature, University of Maryland at College Park), or Monica Burney's work to understand the effects of post-war displacement on women and children (History, Eastern Illinois University). You can also help to recruit more humanities and arts students to the 3MT® competition on your campus. These stories and examples help a lay audience understand the value of the humanities and arts to the public.
As we look to the year ahead, I feel optimistic that we are making progress in our commitment to better understanding, and appreciating, the nature of work that graduate degree holders do. I hope that you will be inspired to build upon this work on your own campus and to share what you are learning with the CGS community.
References:
National Endowment of Humanities. Division of Public Programs. [Web page]. Retrieved from https://www.neh.gov/divisions/public
Patchett, A. (2019, December 5). Art with impact: An afternoon with Ann Patchett. Plenary presentation at 2019 CGS Annual Meeting. Retrieved from https://cgsnet.org/ckfinder/userfiles/files/2019%20AM/Presentations/Patchett.pdf
Schroeder, R. (2017, May 9). What is public humanities? [Blog post]. Retrieved from https://dayofph.wordpress.com/what-is-public-humanities/
CGS Releases Updated Statement on Diversity and Inclusion
In December 2019, the CGS membership approved an updated statement of principles reaffirming the centrality of diversity, equity, access, and inclusion to the excellence of graduate education. The statement demonstrates CGS's ongoing commitment to the creation and maintenance of inclusive graduate communities with particular attention to attracting, retaining, and supporting students from populations historically underrepresented in graduate education. The full statement can be viewed or downloaded on the CGS website.
Why Fellowships? A funding model worth defending
Gisèle Muller-Parker, Susan E. Brennan, and Erick C. Jones
When the U.S. Congress launched the National Science Foundation (NSF) after WWII, its "first order of business"  was to provide fellowship support for graduate students.1 Since 1952, the Graduate Research Fellowship Program (GRFP) has selected and supported over 60,000 U.S. citizens, nationals, and permanent residents who show early potential in science, technology, engineering, and mathematics (STEM) fields. Over the years, GRFP has grown along with the U.S.'s reputation as a leader in science and engineering innovation, serving as the leader among both established and newly created domestic and international fellowship programs who have adopted its practices and policies.
However, NSF has announced plans to decrease the number of GRFP fellowships from 2,000 to 1,600 for the current and 2021 competitions.2 If this plan is carried out, it would be the first substantial cut to fellowships in NSF's history— detrimental not only to a whole cohort of STEM students, but also to attempts to maintain U.S. leadership in science and innovation. No rationale has been provided for these cuts. Although the public data provided by NSF are incomplete, data from the past two decades suggest that cutting the number of graduate fellowships by 20% would disproportionately affect women and other under-represented groups, further narrowing opportunities to recruit and retain talented individuals into science and engineering from geographically and economically diverse undergraduate institutions.
A Distinctive Model for Funding Graduate Education
Fellowships represent a different funding model than assistance-based or PI-directed models. Although merit-based fellowships comprise a relatively small proportion of NSF's total support for graduate students, GRFP fellowships are particularly well-aligned with the U.S. Executive Branch's FY 2021 Budget Priority to build a diverse, highly skilled domestic workforce and to support transformative research that involves high risk and potentially high reward.3 During fiscal year 2018, NSF supported an estimated 41,874 graduate students—approximately 5% of all science and engineering graduate students in the U.S.4 This support was provided through three mechanisms: research and traineeship grants awarded to Principal Investigators (PIs) and their institutions, and merit-based fellowships awarded to individual students. The lion's share (82%) of NSF's graduate support went to research assistants appointed by PIs to assist with funded research projects.
Crucially, the selection processes for these mechanisms of support are quite different. Research assistants are chosen by the PI from a small, available pool of qualified students enrolled at an institution. Trainees are chosen and recruited by their institution's graduate programs. Only GRFP fellows are selected in a national yearly competition from a broad and deep pool of 12,000-17,000 applicants from all over the U.S., based on the recommendations of practicing scientists and educators who use NSF's merit review criteria. These reviewers are free of conflicts of interest, as they are not the students' PIs, and they receive training in avoiding bias. This means that fellows are selected for their early achievements, initiative, and potential, not for expediency or because they remind PIs of themselves. Because fellowships fund people and not research projects, broadening participation can be served directly by having NSF select fellows.
Impacts of Policy on Diversity
Changes in how NSF has conducted the GRFP competition over the years allow comparisons to be made about the impacts of policy. From 1978 to 1998, a separate competition was held for under-represented minority (URM) applicants (as directed by Congress with the FY 1978 appropriation to NSF).5 In 1998, the last year of this Minority Graduate Research Fellowship competition, a total of 145 URM received awards. In 1999, NSF began conducting a single competition; among the 900 awardees in 1999, only 76 (8.4%) were URM.6  That year, 49% were women (including 9% from special awards reserved for women in engineering and in computer and information science).7 Since then, GRFP has made great strides in offering fellowships to women and URM in STEM. This has been achieved in part by increasing outreach about the program, in part by training the reviewers about bias and holistic review, and in part by doubling the numbers of awards in 2010. Figure 1 shows the data for numbers of women and minority GRFP awardees from 1999 through 2018 (public data are incomplete for 2009 through 2012). Unfortunately, data on how women and URM awardees are distributed among different STEM disciplines are not publicly available. Adding fellowship funding rates (with data on applicants) to NSF's annual Report on the Merit Review Process would provide the information needed to ensure the integrity, quality, accountability, and transparency of fellowship policies and processes and inform outreach to under-represented individuals and institutions.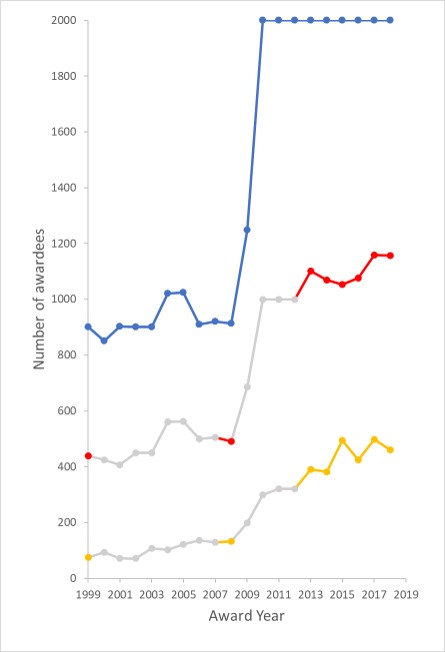 Figure 1: Award offers made to total, women, and URM applicants (data from all available NSF News Releases are in blue, red, or yellow, from NSF 99-026, 08-062, 13-064, 14-047, 15-030, 16-033, 17-023, 18-022 and do not include replacement awards).  Data for other years (in gray) are estimated from graphs in https://www.nsfgrfp.org/cms_assets/File/GRFP-60_Years_FINAL.pdf.
In 2008, the G.W. Bush administration proposed tripling the number of GRFP awards from around 1,000 to 3,000 per year,9 based in part on the recommendation of Labor Economist Richard Freeman.10 The Obama administration subsequently planned for a step-wise approach to implement this proposal, doubling the number of awards in fiscal year 2010. The number of awards to women doubled at that point, and awards to URM more than doubled. In the 2018 competition (the last year for which a press release is available), nearly 58% of awardees were women, and 23% (461 individuals) were URM.11
This doubling also enabled GRFP to significantly broaden its reach among U.S. institutions of higher education.  Because fellowships are portable and awarded to individuals, it is not surprising (nor is it a failing of policy) that undergraduates take their awards to the graduate programs of their choice (sometimes using the award to gain admission to a more desirable program). A more appropriate metric for assessing institutional diversity is not where (in what graduate program) awards are used, but where fellows come from. Figure 2 shows the strong positive impact starting in 2010 on the number of unique baccalaureate and current institutions of awardees. The increase to approximately 450 unique baccalaureate institutions has remained relatively stable.12 The most recent five years show a modest increase in the number of unique current institutions, possibly reflecting a greater proportion of awards to senior undergraduates.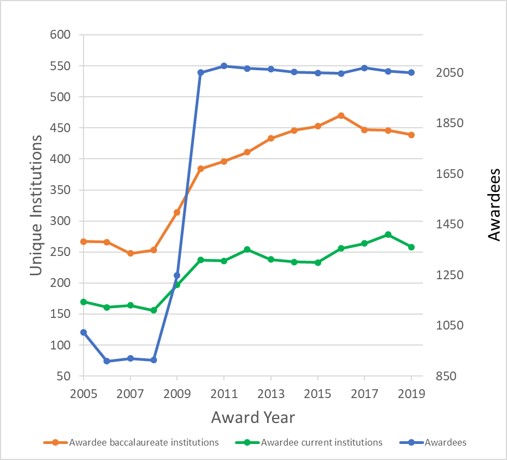 Figure 2: Total number of GRFP award recipients and the total number of unique associated baccalaureate and current institutions.13
Not only did doubling the number of fellowships broaden the participation of women, URM, and institutions, but this impact was strong and sustainable. Not only did URM fellows more than double, but fellows with baccalaureate degrees from Historically Black Colleges and Universities (HBCUs) increased three-fold. Most (over 70%) of the fellows who earned their baccalaureate at an HBCU institution received their award later on, while enrolled in a non-HBCU institution; this speaks to the need for promoting and supporting the fellowship application process at these and many other institutions that are underrepresented.
Impacts of Fellowships (and Cuts) on Recruiting Students to STEM
When it comes to recruiting a diverse and talented pool of students to STEM, does funding source—whether a fellowship or an advisor's grant—really matter? NSF provides no public data on grant-funded research assistants to directly answer this question; however, a systematic study by NORC of over 11,000 GRFP fellows (from 1994-2011) found the proportions of women and URM to be higher than in a comparison group of all U.S. STEM doctorate recipients (1996-2011).14
Because fellowships are awarded to individuals and are portable, fellows have freedom to be creative and take initiative in their research. The NORC study also found that after graduation, fellows were more likely to be employed in higher education and to report teaching or research and development as their primary work activities than the national comparison group.15 Fellows (whose names are announced each year by NSF) have also gone on to invent new technologies, start successful companies, win Nobel Prizes and other prominent awards, educate the public about science, and lead federal agencies. The most direct evidence of impact comes from NORC's comparison of GRFP fellows with Honorable Mention recipients (HMs), selected from the top 30% of high-potential applicants and considered by NSF's reviewers to be similarly deserving of awards. Honorable Mention is a significant honor that comes with no funding (therefore, HMs typically work as teaching or research assistants). Fellows demonstrated higher scientific productivity after graduate school (more publications, presentations, and research grants) than HMs, and fellows whom reviewers had ranked in Quality Group 2 (equivalent to HMs in merit) were more likely than HMs to complete their degrees within a 10-year window.16
Some students have had every possible advantage–strong role models, supportive families and mentors who steer them to summer programs and internships, AP classes in high school, honors undergraduate programs, and assistance from faculty members in applying to graduate school. These students are likely to gain admission to top graduate programs and earn their degrees in a timely fashion, regardless of whether they are awarded a graduate fellowship. But many other talented students have worked their way up from 2-year community colleges or completed bachelors' degrees at schools with limited research opportunities or are trying to overcome economic disadvantage.17 These individuals typically have less choice among graduate programs to attend.18 The playing field is far from level, which is why GRFP reviewers look at fellowship applications holistically, assessing how students have made use of the opportunities available to them. A cut in the number of fellowships has quite different implications for students on different rungs of the economic ladder. If the chances of receiving an award drop significantly, there are diminishing returns in taking the time to apply. Diminishing returns matter little for students who can expect family support or generous funding offers from top graduate programs but are significant for those struggling to gain a toehold.
Graduate Fellowships: A Lever for Global Competitiveness
Reducing the number of GRFP awards would deliver a hit to domestic graduate students in the U.S. The current mindset of cutting GRFP awards (coupled with the fact that stipends have been frozen at $34,000 since 2015, and COE allowances, at $12,000 since 2011) risks sending a message to the "best and brightest"19 that their talents are valued less in STEM fields than in the non-scientific workforce (e.g., in lucrative areas such business, management, or finance). This leaves American colleges, universities, federal agencies, and companies to look elsewhere to fill the STEM leadership gap. Since World War II, the U.S. has attracted increasing numbers of international scholars, especially in STEM fields from China, Taiwan, India, and South Korea.20 For example, in fall 2018, over half of all engineering, mathematics and computer science graduate students enrolled in U.S. universities were international.21 But as U.S. immigration policy increases obstacles to recruiting non-citizens (including from countries whose citizens have made some of the strongest contributions to the U.S. economy), and with increasing concerns over protections for intellectual property, there is now more than ever an urgent need to recruit talented domestic students into graduate training and the U.S. STEM workforce.
Conclusion
Attracting high-potential U.S. students into graduate training in STEM, and doing so at higher rates and from the broadest possible pool of talent, requires a transparent approach to policy.22,23 A recent NAS report24 recommends research on the effects of different funding mechanisms upon outcomes for doctoral students, who are typically supported on a mix of fellowships, traineeships, research assistantships, and teaching assistantships over the course of their degree programs. We call for a convening of thought leaders in STEM graduate education and workforce development to weigh how best to deploy resources for graduate education, in order to meet national goals. Two concerns are paramount. First, such research must include under-served populations. Merit-based fellowships chosen from a large and diverse applicant pool meet this objective, whereas other sources of funding may not. Second, policies must be informed by evidence. A complete and consistent set of publicly available data on funding rates—not only for NSF's GRFP, but for other federal fellowships as well—would foster accountability and allow stakeholders to develop strategies for reaching those who are currently under-served, including students from key geographic areas and at institutions that serve economically and demographically diverse populations.  Such data exist, and therefore should be shared in this age of data transparency and responsible stewardship of the public trust.
Gisèle Muller-Parker joined NSF as Program Director for the NSF Graduate Research Fellowship Program (GRFP) in October 2008 and retired from NSF in May 2019. Susan E. Brennan is Professor of Cognitive Science at Stony Brook University (and a 1986 NSF fellow). Erick C. Jones is George and Elizabeth Pickett Endowed Professor and Associate Dean for Graduate Studies in the College of Engineering at the University of Texas at Arlington. The authors have 15 years of combined experience with GRFP; both Drs. Brennan and Jones served as program directors with GRFP under Intergovernmental Personnel Act (IPA) assignments.
The authors contributed equally to this article. Any opinions, findings, and conclusions or recommendations expressed in this material are those of the authors and do not necessarily reflect the views of the National Science Foundation.
References
1 NSF Annual Report. p. 17. (1951).  Retrieved from: https://www.nsf.gov/about/history/ann_report_first.pdf
2 Graduate Research Fellowship Program Solicitation. NSF 19-590.  (2019, July). Retrieved from: https://www.nsf.gov/pubs/2019/nsf19590/nsf19590.pdf
3 Executive Branch Memorandum M-19-25. (2019, August).  Retrieved from: https://www.whitehouse.gov/wp-content/uploads/2019/08/FY-21-RD-Budget-Priorities.pdf?utm_medium=email&utm_source=FYI&dm_i=1ZJN,6GMRP,E29O1F,PMN7K,1
4 FY 2020 NSF Budget Request to Congress. (2019, March). Number of people involved in NSF activities. Summary Tables – 5.  (2019). Retrieved from: https://www.nsf.gov/about/budget/fy2020/pdf/05_fy2020.pdf.
5 National Science Foundation Authorization Hearing Before the Subcommittee on Science, Research and Technology of the Committee on Science and Technology, U.S. House of Representatives, Ninety-Fifth Congress. First Session on H.R. 3607 (Superseded by H.R. 4991), (1977, February).  pp. 1168-1179.
6 NSF News Release 99-026. (1999, April).  Graduate Students Awarded Research Fellowships. Retrieved from: https://www.nsf.gov/news/news_summ.jsp?cntn_id=102993
7 Ibid.
8 Reports on the National Science Foundation's Merit Review Process.  Retrieved from:  https://www.nsf.gov/nsb/publications/pubmeritreview.jsp
9 Mervis, J. (2008). NSF Fellowships called powerful tool for building the pipeline. Science 319:1477.
10 Freeman, R. B. (2006). Investing in the Best and Brightest: Increased Fellowship Support for American Scientists and Engineers. Brookings Discussion Paper 2006-09 (Dec 2006).
[1]1 NSF News Release 18-022. (2018, April).  NSF announces Graduate Research Fellowships for 2018.  Retrieved from: https://www.nsf.gov/news/news_summ.jsp?cntn_id=245024&org=NSF.
12 GradEdge (2013, Aug/Sept.).  vol. 2(7). Pp.4-5. Data Sources: Trends in NSF Graduate Research Fellowship Award Offers (2000-2013).
13 Graduate Research Fellowship Program (GRFP).  Award Offers and Honorable Mentions List. Data retrieved in June 2019 from https://www.research.gov/grfp/AwardeeList.do?method=loadAwardeeList
14 Evaluation of the National Science Foundation's Graduate Research Fellowship Program. Final Report by NORC at the University of Chicago (2014, January). Retrieved from: http://www.nsf.gov/ehr/Pubs/GRFP_Final_Eval_Report_2014.pdf
15 Ibid.
16 Ibid.
17 Lauer, M. (2019, November). Expanding NIH's definition of socio-economic disadvantaged to be more inclusive and diversify the workforce. Open Mike. Retrieved from: https://nexus.od.nih.gov/all/2019/11/26/expanding-nihs-definition-of-socio-economic-disadvantaged-to-be-more-inclusive-and-diversify-the-workforce/.
18 Posselt, J. R. (2016). Inside graduate admissions: Merit, diversity, and faculty gatekeeping. Harvard University Press: Cambridge, MA.  ISBN 9780674088696
19 see reference 10.
20 National Research Council (US) Committee on Policy Implications of International Graduate Students and Postdoctoral Scholars in the United States. Policy Implications of International Graduate Students and Postdoctoral Scholars in the United States. Washington (DC): National Academies Press (US); 2005. The National Academies. Retrieved from: https://www.ncbi.nlm.nih.gov/books/NBK37563/
21 Graduate Enrollment and Degrees (2019, October). Table B.9. First-Time Graduate Enrollment by Broad Field and Citizenship, Fall 2018.  CGS/GRE Survey jointly sponsored by the Council of Graduate Schools and the Educational Testing Service. Retrieved from: https://cgsnet.org/ckfinder/userfiles/files/CGS_GED18_Report_web.pdf
22 Teitelbaum, M. S. (2014). Falling behind? Boom, bust, and the global race for scientific talent. Princeton University Press.
23 Stephan, P. (2012). How economics shapes science. Harvard University Press, Cambridge, MA.
24 National Academies of Sciences, Engineering, and Medicine.  (2018). Graduate STEM Education for the 21st Century. Washington, DC: The National Academies Press. Retrieved from: https://doi.org/10.17226/25038.
Selected Insights from the 2019 CGS Survey of Organization & Administration of Graduate Education
Hironao Okahana and Enyu Zhou, Council of Graduate Schools
The Council of Graduate Schools (CGS) recently surveyed its membership on the Organization & Administration of Graduate Education. The following selected insights into how graduate education is organized and administered in the U.S. and Canada are based on responses from the 200 participating member universities. The findings affirm that the majority of responding institutions organize the responsibilities of graduate education within an organizational unit led by a dean. This organizational structure provides graduate education administrators with leadership roles that are similar in stature and expectations to those of academic colleges and collegiate deans. We also found that in addition to supporting graduate student success, the organizations responsible for graduate education, particularly at research-intensive institutions, also oversee postdoctoral trainees.
Key Findings:
Overall, more than 64% of institutions responding to the survey indicated that their formal administrative name includes "Graduate School" or "Graduate College," while 24% reported that their name includes a variation of "Office of Graduate Studies" or "Graduate Division." The survey affirmed that 48% of graduate education organizations are led by a "Dean" and 27% are led by an "Associate/Vice Provost and Dean". (Figure 1)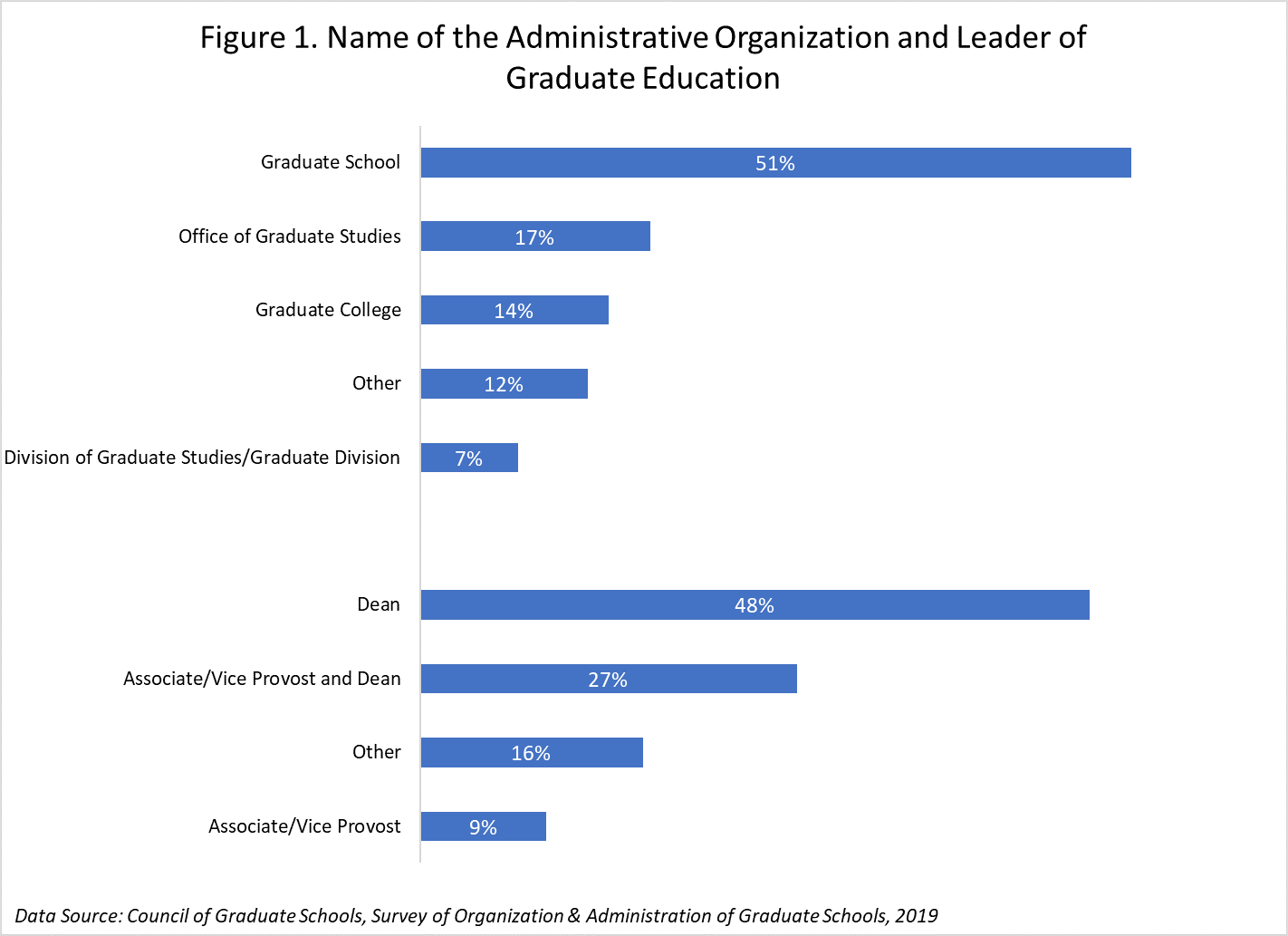 Roughly 48% of the graduate schools from R1 institutions have responsibility for postdoctoral affairs, while 31% of respondents from master's colleges and universities and 20% of respondents from R2 and R3 institutions indicated that, in addition to graduate education, graduate schools are also responsible for research administration. None of the R1 graduate schools reported responsibility for research administration as an area of oversight. (Figure 2)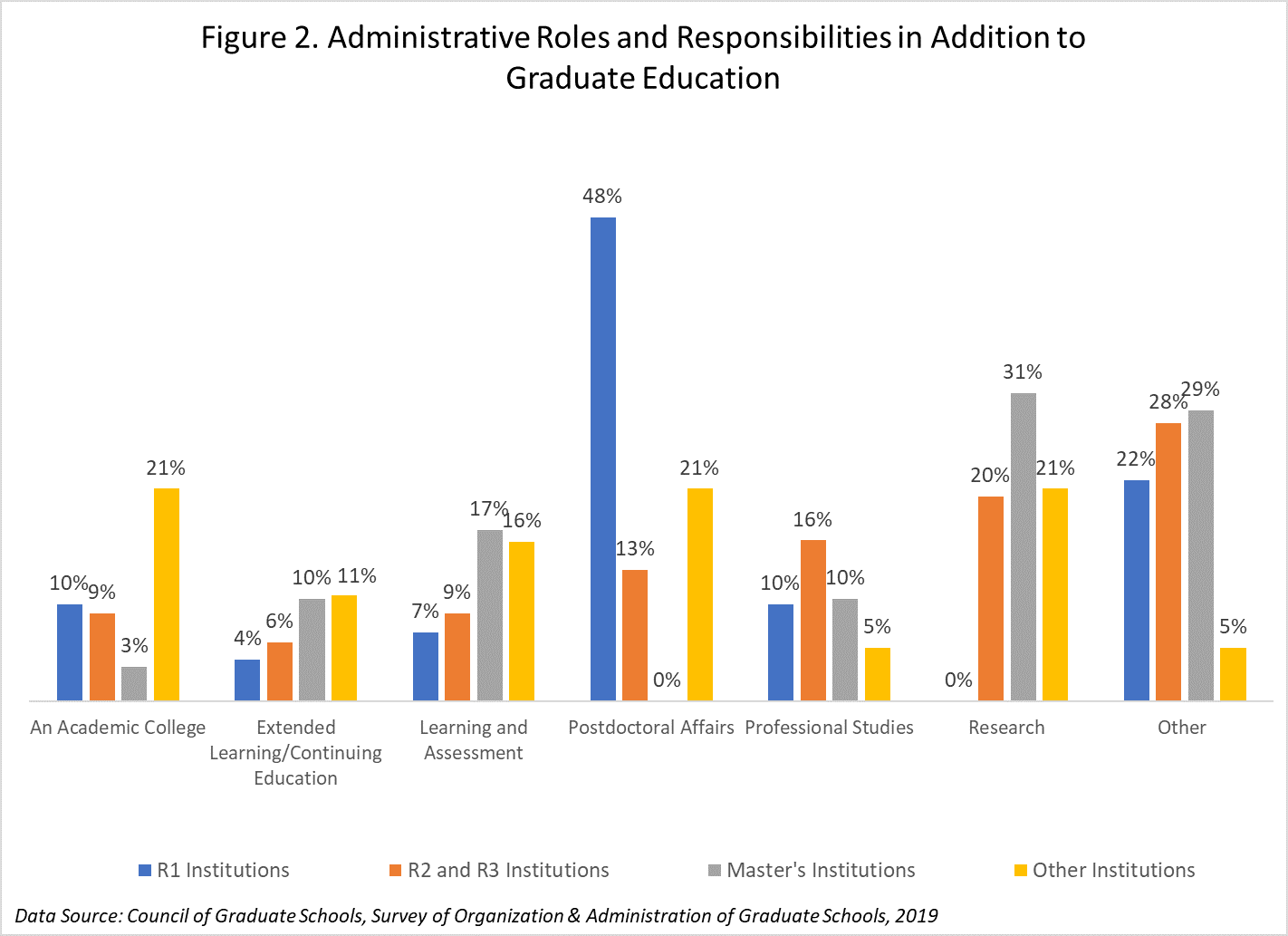 The average number of staff members supporting graduate schools was reported as 22 full-time equivalents (FTEs) at participating R1 institutions, 10 FTEs at R2 and R3 institutions, and 5 FTEs at master's colleges and universities. The average number of graduate assistants and student assistants working in graduate schools was the highest at R2 and R3 institutions. (Figure 3)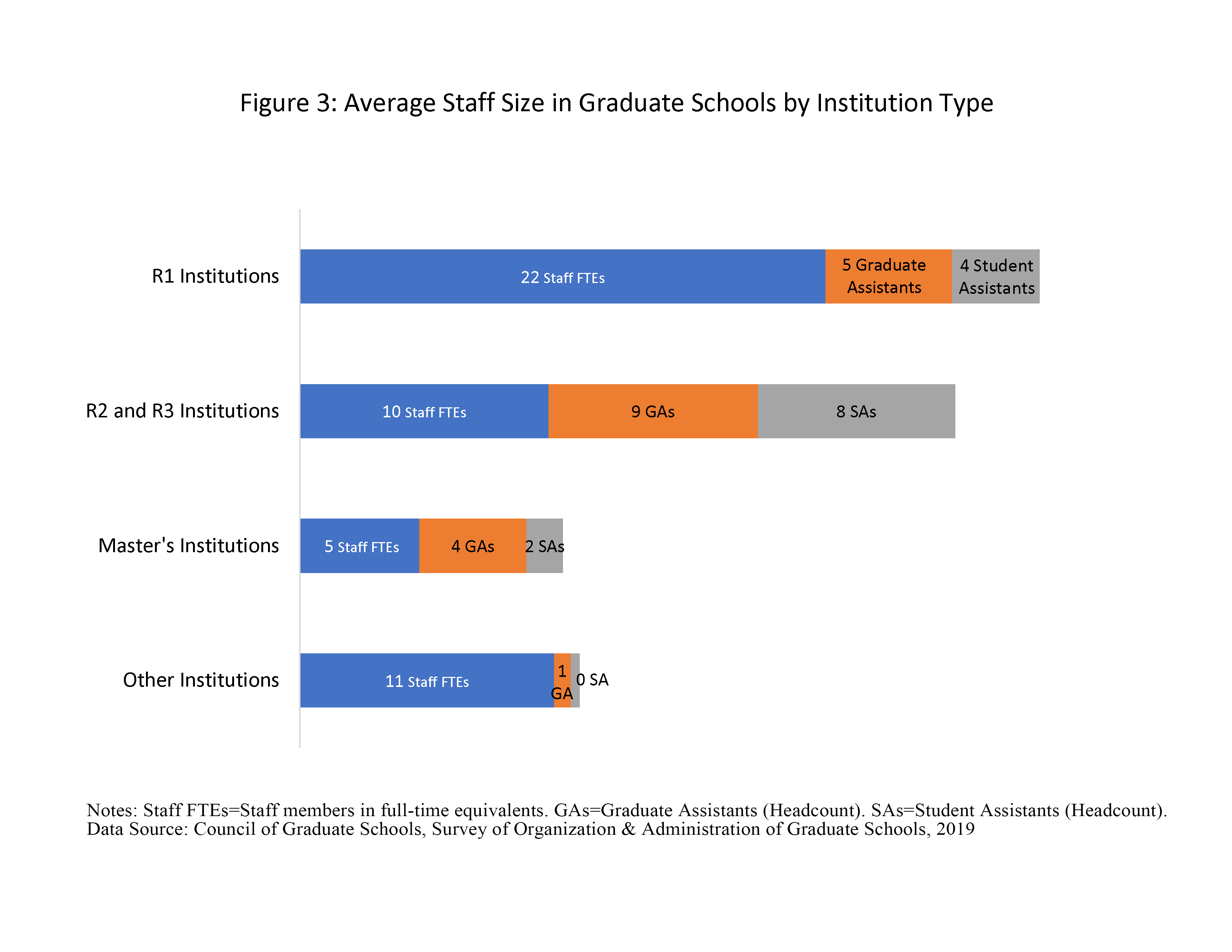 Approximately 50% of respondents indicated that their graduate schools have decision-making authority for setting academic policies governing graduate programs, establishing graduate admissions policies, monitoring the academic progress of graduate students, responding to academic grievances, and managing graduate admissions technology. In other areas, such as review of new and revised programs, development of new graduate programs, and review of/development of online graduate programs, more respondents noted that they have formal input into the decision-making processes at their institutions. (Figure 4)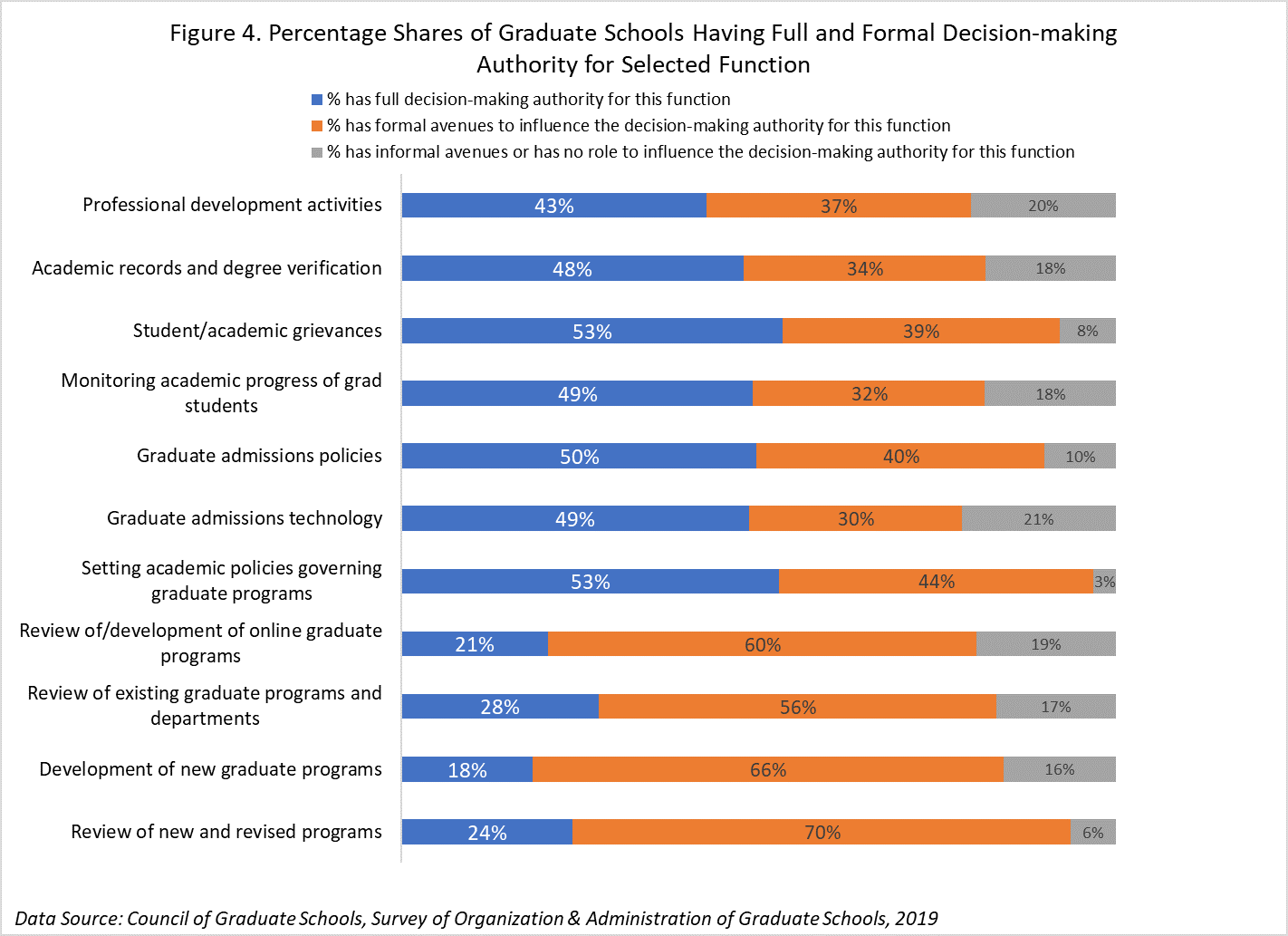 Takeaway Points
Based on the survey, the majority of institutions organize graduate education roles and responsibilities within a Graduate School or Graduate College, led by a dean, affirming that these organizational units and their leaders have roles and responsibilities that are similar in stature to academic colleges and collegiate deans at their home institutions. In other words, campus leaders of graduate education are at the same tables with collegiate deans and other senior academic leaders, ensuring that the interests of graduate education are represented in these ranks.
At R1 institutions, 48% of graduate schools oversee postdoctoral affairs. This finding underscores the essential leadership roles that graduate schools provide to support the experience and success of postdoctoral trainees. In the same ways that graduate schools support the mentoring and career and professional development activities for graduate students, they are also positioned to provide these support services for postdoctoral trainees.
Compared to R1 institutions, graduate schools and their deans at other types of institutions were more likely to have broader areas of responsibilities beyond graduate education. Given the relative sizes of graduate programs, it might make sense that these units oversee other areas; however, they also have relatively fewer FTEs to support their units. It may be the case that graduate education administrators at these universities are asked to do more with less.
The findings highlight a central role that graduate schools can play in setting academic policies and standards for graduate programs, such as graduate student admissions policies, graduate student academic progress, and grievances. However, they also amplify that in other areas, roles and responsibilities of graduate schools include areas that influence a broad range of decision-making processes across the institution. Influencing faculty hiring or curricular decisions underscores the importance of nurturing collaborative relationships with academic colleges and programs, as well as with other campus units, such as student affairs units, in promoting interests of graduate education and graduate students.
Conversation Starters
We encourage graduate education units to engage in conversation about various models for organization and administration of graduate education. Some of the questions that you may want to ask as a self-reflection or to your campus colleagues (i.e., college deans, graduate program directors, etc.), as well as with stakeholders include:
What kind of organizational structure does your unit have? How does the organizational structure align with your unit's goals and priorities?
Where is your unit housed? Which areas of responsibilities does your unit cover? How many staff lines does your unit have? How does organizational placement reflect institutional priorities for graduate education?
How does your unit engage other units on campus? What types of formal and informal interactions do graduate deans (or equivalents) have with their campus peers? What types of formal and informal interactions do rank and file staff members in your unit have with their counter- parts in academic colleges, graduate programs, and other units?
What different functions does your unit have? What kind of staffing levels does your unit have for different functions?
Additional Resources
The Organization and Administration of Graduate Education. This publication provides an overview of the structures, leadership, and strategies that define contemporary graduate education. It also provides case studies from selected graduate schools addressing pressing issues.
CGS Strategic Consultation Services. The Council of Graduate Schools provides strategic consultations to member and nonmember institutions, boards, and state agencies to offer guidance as they make tactical decisions about the administration of graduate education. Our consultations draw upon extensive best practice and benchmarking research as well as the insights of experienced graduate deans from around the country.
About the Data Source: The Council of Graduate Schools, Survey of Organization & Administration of Graduate Schools was distributed to CGS member institutions and members of the four regional graduate school affiliations in Spring 2019 (US, N=195; and Canada, N=5). This brief is based upon the participants who reported working in one of the four institution types based on the 2015 Carnegie Classification of Institutions of Higher Education. The Basic Carnegie Classification categories are aggregated to four categories as follows: Universities with Highest Research Activity (R1 Institutions), Universities with Higher Research Activity and Universities with Moderate Research Activity (R2 and R3 Institutions), Master's Colleges and Universities (Master's Institutions), and Other Institutions. The sample size by institution type is as follows: R1 Institutions (N=71), R2 and R3 Institutions (N=65), Master's Institutions (N=52), and Other Institutions (N=12).
Undergraduates and the Prospect of Graduate School
Jeff Allum, Ed.D., Director of Research and Data Analytics and Katie Kempner, M.A., Data Analyst and Project Specialist, Association of American Law Schools
The American graduate education enterprise has enjoyed a decades-long and generally sustained period of growth and expansion. This achievement was made possible thanks to the vision of institutional leaders, the scholarship of individual faculty, the investments of corporate and federal investors, and – not to be overlooked – the hopes and dreams of young people. In fact, between 1976 and 1990, the proportion of U.S. high school students aspiring to earn a graduate or professional degree rose from 29% to 46% (Reynolds & Johnson, 2011). The conversion of aspirations into graduate and professional school enrollment has been successful and substantial, a 35% increase between 2000 and 2013 alone (Posselt & Grodsky, 2017). There have been small and intermittent periods of contraction or stasis in graduate enrollment over the past several decades, but they have generally been isolated to specific fields of study, small time periods, or particular demographic groups (Okahana & Zhou, 2019a).
Whether the underlying conditions that helped make such sustained growth possible in the past will continue in the future remains unclear. Demographically speaking, the U.S. is heading into a period of both stagnation and diversification in terms of the number and types of high school graduates it produces (Bransberger, 2017). The number of international graduate students enrolling in American graduate programs has declined for two years in a row after years of continuous, often robust growth (Okahana & Zhou, 2019b). All of this is occurring at a time of wavering confidence among some in the value proposition of higher education more generally (see, for example Associated Press and NORC, 2019).
Is such growth in graduate enrollment sustainable? The results of a recently released national survey offer some clues into what undergraduate students are thinking. The study, Beyond the Bachelor's: Undergraduate Perspectives on Graduate and Professional School, a publication of the Association of American Law Schools (2018,) examines undergraduate student aspirations to go to law school and also captures undergraduate student aspirations to go to graduate and professional school more broadly. The survey, which was designed and implemented by Gallup, was distributed to over 212,000 undergraduate students from 25 colleges and universities across the United States. Fielded in the fall of 2017, it garnered responses from 22,189 undergraduate students and some of the highlights are included here.
Interest is Strong but Cost and Time are Deterrents
One topline finding generated by this survey offers generally good news for American graduate schools: when compared to undergraduate students who are unlikely to go to graduate or professional school, undergraduate students who are likely to go to graduate school are more likely to be women and more racially/ethnically diverse. For example, among those likely to go to graduate or professional school, 48% are men and 52% are women. Among those unlikely to go to graduate and professional school, 57% are men and 43% are women. Of those likely to go to graduate or professional school, 16% are Asian, 8% are Black, and 13% are Hispanic, whereas among those who are unlikely to go to graduate or professional school, 10% are Asian, 5% are Black, and 9% are Hispanic. Of special note was the fact that two in five (41%) students likely to go to graduate or professional school have at least one parent with an advanced degree, whereas less than one-third (29%) of students who are unlikely to pursue a graduate or professional degree have at least one parent with an advanced degree (see Table 1).
Table 1. Distribution of Undergraduate Students by Demographic
| | | |
| --- | --- | --- |
| Demographic Characteristic | Likely to Pursue an Advanced Degree | Unlikely to Pursue an Advanced Degree |
| Men | 48% | 57% |
| Women | 52% | 43% |
| | | |
| Asian | 16% | 10% |
| Black | 8% | 5% |
| Hispanic | 13% | 9% |
| White | 64% | 76% |
| | | |
| At least one parent with advanced degree | 41% | 29% |
Source: Association of American Law Schools Beyond the Bachelor's (Table 1.1)
Overall, students likely to go to graduate or professional school most frequently (49%) cited passion/high interest as a motivation for pursuing a graduate or professional degree, and there were some differences depending upon which type of graduate or professional degree they were considering. For example, among students considering an M.A. or M.S., the most frequently cited reasons for pursuing a graduate degree were passion/high interest (49%), high-paying jobs (36%), and advancement opportunities in the field (35%). In contrast, among students considering a PhD, the top three reasons for going to graduate school were passion/high interest (59%), developing analytic abilities (32%), and the opportunity for getting a high-paying job (30%). The slight variations in these and other factors suggest that students considering an M.A. or M.S. might be motivated slightly more by career characteristics than those who are considering a PhD (see Table 2).
Table 2. Reasons for Considering an Advanced Degree by Degree Type
| | | |
| --- | --- | --- |
| Reason for Considering an Advanced Degree | M.A. or M.S. | PhD |
| Passionate/high interest | 49% | 59% |
| High paying jobs | 36% | 30% |
| Advancement in the field | 35% | 25% |
| Preparation for many types of jobs | 31% | 27% |
| Develop analytic abilities | 26% | 32% |
| Be helpful to others/give back | 21% | 26% |
Source: Association of American Law Schools Beyond the Bachelor's (Table 4.1)
Among the range of factors that might prevent undergraduate students from pursuing a graduate or professional degree, two stood out: cost and time. Overall, 68% of undergraduate students responding to the survey reported cost as a potential deterrent to pursuing a graduate or professional degree, and 49% reported that the length of time it takes to complete an advanced degree was a deterrent. Only slight variations were observed in relation to the type of degree students were considering. For example, 69% of students considering an M.A. or M.S. and 66% of students considering a PhD identified high cost as a reason not to go to graduate school. Similarly, 50% of students considering an M.A. or M.S. and 51% of students considering a PhD reported length of time to earn a degree as a deterrent.
Sources of Advice Vary by Demographics
The survey asked students to select the top three sources of advice about graduate and professional school. Real people, not print materials, websites, or other online sources, were overwhelmingly identified as top sources of advice. For example, the top sources of advice for students considering an M.A. or M.S. were family members (56%), professors (52%), advisors (51%), and people working in the field (39%). For students considering a PhD, the top sources of advice were family members (51%), professors (60%), advisors (49%), and people working in the field (40%). Overall, the percentage of students likely to pursue a graduate or professional degree who cited university websites, catalogs, or brochures or graduate school admission staff or recruiters was considerably smaller, at 12% and 9% respectively.
An examination of sources of advice by demographic characteristics suggests some noteworthy differences. Among students likely to pursue an advanced degree, women were more likely than men to report college counselors (55% vs. 44%) and people already working in the field (43% vs. 37%) as sources of advice. Men were more likely than women to cite friends (18% vs. 13%) and other students (13% vs. 9%) as sources of advice. Black and Hispanic students were considerably less likely to cite family members as sources of advice about graduate and professional school (48% each) compared to their Asian (57%) and White (58%) peers. Black students were also considerably less likely to report professors (42%) and advisors (54%) as a source of advice compared to their Asian, Hispanic, and White peers.
Finally, among those students likely to pursue a graduate or professional degree who cited family as a source of advice, 70% had at least one parent with an advanced degree, 52% had at least one parent with a bachelor's degree, and 38% had parents who did not hold a bachelor's degree. First-generation college students were more likely than students whose parents have bachelor's degrees or higher to utilize institutional resources. For example, among students reporting that advisors were a source of advice about graduate and professional school, 53% were first-generation students compared to 50% whose parents had a bachelor's degree, and 47% whose parents held an advanced degree. First-generation students were also less likely to rely on admissions staff and university catalogs or resources, although to a smaller degree.
Some Implications for Graduate Education
Many findings from this study corroborate the limited body of literature on pathways to and through graduate and professional school. The fact that Beyond the Bachelor's found that students who are likely to pursue a graduate degree were more racially and ethnically diverse than those who were unlikely to pursue a graduate or professional degree aligns with earlier findings described by David English and Paul Umbach (2016) showing elevated levels of graduate school aspiration among Black/African American students and, to a lesser extent, among Hispanic/Latino students. Their study cautioned, however, that these aspirations did not translate into applications to and enrollment in graduate school at the same rates as their Asian and White peers, adding that this might be explained by the troubling fact that few Black/African American students in the dataset possessed the same social and cultural capital characteristics (e.g., parental education attainment, dependency status, income, etc.) as, for example, White students. What appears to matter more, according to English and Umbach (2016), is the type of undergraduate institution these students attended (i.e., by Carnegie classification) and their undergraduate major.
Similarly, the fact that the influence of parental education permeated the Beyond the Bachelor's findings is one more bit of evidence to suggest that educational inheritance, and the array of benefits that flow from it, is real. Using national datasets, English and Umbach (2016) and Posselt and Grodsky (2017) represent just two recent studies to come to the same conclusion. While educational inheritance may provide the kind of continuity that graduate and professional schools can depend upon in order to sustain enrollment, that might not be enough to grow enrollment. The combined effects of a diversifying general population and a shrinking college-aged population will necessitate that graduate schools continue to harness aspirations of a full range of young people, convert them into matriculants, and see them through to successful completion.
References
Association of American Law Schools. (2018). Beyond the bachelor's: Undergraduate perspectives on graduate and professional degrees. Washington, DC: Author.
Associated Press and NORC. (2019, November). Young Americans' views on the value of higher education. Retrieved 11-25-19 from http://www.apnorc.org/PDFs/Young%20People%202019/APNORC_Higher_Education_report_2019.pdf
Bransberger, P. (2017, December). Knocking update: New data about private high school graduates. WICHE Insights. Retrieved 11-25-19 from https://static1.squarespace.com/static/57f269e19de4bb8a69b470ae/t/5a3a8e799140b752584cccd2/1513787010856/PrivateSchoolsData-121917-ca.pdf
English, D., & Umbach, P. (2016). Graduate school choice: An examination of individual and institutional effects. The Review of Higher Education, 39(2), 173-211.
Okahana, H., & Zhou, E. (2019a). Graduate enrollment & degrees: 2008-2018. Washington, DC: Council of Graduate Schools.
Okahana, H. & Zhou, E. (2019b) International graduate applications and enrollment: Fall 2019. Washington, DC: Council of Graduate Schools.
Posselt, J.R. & Grodsky, E. (2017). Graduate education and social stratification. Annual Review of Sociology, 43, 353-378.
Reynolds, J.R. & Johnson, M.K. (2011). Change in the stratification of educational expectations and their realization. Sociological Forces, 90(85), 85-109.
Integrating Big Data Ethics into Graduate Research and Training
Jeffrey Engler, Vice President, Special Projects, Council of Graduate Schools
Understanding the unique ethical challenges of data ownership and data management within the context of big data research is a critical gap in our training of graduate students and future researchers. Disciplines, from computer science and engineering to social and biomedical sciences, communications and business have increasingly adopted the research tools of "big data" to analyze the behaviors and habits of millions of people. Although there are benefits to big data analytics, the use of big data methods and databases in research has strained our existing paradigms for the ethical use of data, particularly in data management, data integrity, personal privacy, and cybersecurity. These challenges affect not only the research community but also political, economic and social communities within our society. For example, a report from the National Academies cites the possibility of attacks on big data repositories and the corruption or distortion of the data stored within ("intentional data alteration"). The reports of hacking of consumer data occur with increasing regularity and the inappropriate use of social network platforms (e.g. Facebook and Cambridge Analytica) reinforce the need to train future users and developers in the ethical use and protection of large datasets.
CGS has had a long-term interest in scholarly integrity in graduate training, including in how best to train graduate students in the ethical use of big data. The CGS 2015 Global Summit ("Implications of 'Big Data' for Graduate Education") brought together policy experts from 15 countries to discuss the implications of big data in research but did not develop specific strategies to train graduate students in the ethical issues arising from its use to study human behaviors and activities.
To address the increasing use of big data in graduate student research and to prepare graduate deans as leaders in graduate training within their institutions, CGS and its partner, PERVADE ("Pervasive Data Ethics for Computational Research"), have received funding from the Office of Research Integrity (ORI) and Elsevier to host a 1.5 day workshop in June 2020. This workshop will convene thought leaders from the big data ethics community and graduate deans from research-intensive institutions to identify ways graduate deans can augment and influence the training of graduate students in meeting the challenges of using big data methods in their research. Workshop goals include identifying specific ethical challenges that arise from the use of big data methods in graduate student research, critiquing existing resources for training, identifying potential levers for change, and formulating strategies for deploying and embedding resources for big data ethics within the RCR training curriculum.
This conversation will empower graduate deans to expand our current training paradigms for scholarly integrity to address the evolving ethical challenges presented by big data. The outcomes of this workshop will be disseminated broadly throughout the graduate community in future GradEdge articles, a CGS webinar in Fall 2020, and a concurrent session at the 2020 CGS Annual Meeting.
2019 CGS Annual Meeting Award Winners
CGS/ProQuest Distinguished Dissertation Award in Humanities and Fine Arts
Kishauna E. Soljour (PhD 2019, Syracuse University)
Beyond the Banlieue: French Postcolonial Migration & the Politics of a Sub-Saharan Identity
CGS/ProQuest Distinguished Dissertation Award in Biological and Life Sciences
Brian M. Sweis (PhD 2018, University of Minnesota – Twin Cities)
Beyond Simple Tests of Value: A neuroeconomic, translational, disease-relevant, and circuit-based approach to resolve the computational complexity of decision making
ETS/CGS Award for Innovation in Promoting Success in Graduate Education: From Admission through Completion
Wayne State University — Success for Underrepresented students in Graduate Education (SURGE)
Gustave O. Arlt Award in the Humanities (World Language and Literature, Comparative Literature, and Drama/Theater Arts)
Nasser Mufti (Associate Professor of English, University of Illinois at Chicago); Civilizing War: Imperial Politics and the Poetics of National Rupture (Northwestern UP, 2017)
Debra W. Stewart Award for Outstanding Leadership in Graduate Education
Barbara Knuth, Dean of The Graduate School, Cornell University
Assistant and Associate Deans Leadership Award
Judith Stoddart, Senior Associate Dean, The Graduate School, Michigan State University
2020 CGS Board of Directors
Chair
Sarah (Sally) Pratt (2021)
Vice Provost for Graduate Programs
University of Southern California
Chair-Elect
Andrew Campbell (2022)
Dean of the Graduate School
Brown University
Past-Chair
Christopher Sindt (2020)
Provost and Dean of the Graduate School
Lewis University
Board Members
Joanne Romagni (2020)
Vice Chancellor for Research
Dean of the Graduate Schools
University of Tennessee Chattanooga
Elizabeth Watkins (2020)
Dean, Graduate Division
Vice Chancellor, Student Academic Affairs
University of California, San Francisco
Julie Coonrod (2021)
Dean of Graduate Studies
The University of New Mexico
Graham Hamill (2021)
Vice Provost for Educational Affairs
Dean of the Graduate School
University at Buffalo, SUNY
William Tate (2021)
Dean, Graduate School
Vice Provost for Graduate Education
Washington University, St. Louis
Suzanne Barbour (2022)
Dean, The Graduate School
The University of North Carolina at Chapel Hill
Dele Davies (2022)
Senior Vice Chancellor for Academic Affairs
Dean for Graduate Studies
University of Nebraska Medical Center
Thomas Jeitschko (2022)
Dean of the Graduate School
Associate Provost for Graduate Education
Michigan State University
New Deans & Titles
Kate Mondloch, Interim Vice Provost and Dean of the Graduate School, University of Oregon
Connie Walton, Provost and Vice President for Academic Affairs, Grambling State University