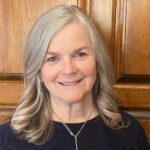 Dr. Julie Coonrod, dean of graduate studies at the University of New Mexico, was announced as the 2022 Board Chair at the conclusion of the 2021 CGS 61st Annual Meeting. Appointed to her role as dean in 2013, Dr. Coonrod has streamlined processes to improve graduate student tracking and completion and expanded funding opportunities. Under her leadership, the Shared Knowledge Conference has become a hallmark event featuring the work from graduate students across campus and communicating that work to community judges and participants. As a professor in Civil, Construction, & Environmental Engineering; she has continued to teach a graduate-level course that emphasizes the modeling capabilities of geographic information systems to students seeking a variety of graduate degrees. Dean Coonrod is the past president of the Western Association of Graduate Schools (2019-2020).
The new Chair-elect, Dr. Graham Hammill serves as the vice provost for graduate education and dean of the Graduate School at the University at Buffalo. Since Dr. Hammill became vice provost and dean in 2015, he has provided dynamic academic leadership and a vision for undergraduate, graduate, and professional education to advance the University at Buffalo as a premier public research university. Hammill has served as chair for two MLA Executive Committees and is currently on the editorial board of Postmodern Culture and The Spenser Review. He has received many awards and grants, including being named a UB Humanities Institute Research Fellow (2012-13), an award from the SUNY Conversations in the Discipline (2010) and a Kaneb Teaching Award from the University of Notre Dame (2006).
Three new members began their terms on January 1, 2022. Beginning a one-year terms is Dr. Cari Moorhead, dean of the Graduate School at the University New Hampshire. Beginning three-year terms are Dr. Jeni Hart, dean of the Graduate School and vice provost of graduate studies at the University of Missouri, Columbia, and Dr. Chevelle Newsome, dean for graduate studies at California State University, Sacramento.
This year's outgoing Chair of the Board is Dr. Andrew Campbell, dean of the Graduate School at Brown University. "We are so fortunate to have had Dr. Campbell's leadership as CGS Board Chair the past year," CGS President Suzanne Ortega said. "He has contributed significantly to the success of graduate students at Brown University and to graduate education more broadly in his efforts to improve recruiting and performance of URM students in doctoral programs."