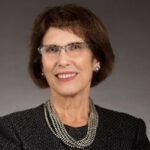 A new year brings possibility. It's a time to rethink strategic planning, reassess priorities, and reconsider our modes of communication. As we approach year three of the pandemic, we're facing many of the same challenges we were two years ago. But we're also finding new opportunities to fulfill our mission to advance graduate education and research in the U.S. and globally.
On that note, I'm so pleased with the recent launch of the newly designed CGS website and membership database and hope you will take time to explore. The new site provides increased functionality, a much-improved search function, and streamlined navigation. We appreciate your patience as we continue to tweak and update content over the next few weeks, but please do let us know if you have any problems.
We're also launching the new CGS project, Growth Opportunities for Justice, Equity, Diversity, and Inclusion, or GO-JEDI, which is designed to encourage and champion CGS member institutions' commitment to improving justice, equity, diversity, and inclusion for historically underrepresented graduate scholars. You can learn more about this new initiative in a separate GradEdge article with details on how to participate.
In addition to launching a new website, AMS, and GO-JEDI, one of our priority areas for 2022 is the master's degree. If you Google "master's degrees worth cost," you'll find article after article in outlets from the Washington Post to New York Magazine to Forbes that question whether postgraduate education translates into improved job outcomes. Recent data indicate that public concerns about higher education "surface largely in response to questions related to economic return on investment." Changing the public narrative about the value of master's education is core to the CGS mission, but it will require a multi-pronged approach.
We know that master's education is the fastest growing and largest component of the graduate enterprise in the United States. In 2020, 84.0% of first-time graduate students were enrolled in programs leading to a master's degree or a graduate certificate and nearly three quarters (72.9%) of total graduate enrollment was in master's programs (CGS/GRE Survey of Graduate Enrollment & Degrees for Fall 2020). We also know that many of the fastest-growing fields in the next decade are in the health sciences, education, and mathematics and computer sciences, and many of those jobs require at least a master's degree for an entry-level position (Bureau of Labor Statistics). The question is how we better communicate the importance of master's education to a broader audience.
In the coming year, CGS staff will develop a social media campaign and toolkit that underscores the importance of master's education and counters the increasingly negative narrative in the media. Part of this initiative will include quotes from employers about the value of master's degrees, data on growing workforce needs, and research findings from current and recent projects outlined below. In addition, CGS's "Top Ten Facts about Master's Degrees" includes key information about the important role master's education plays in fulfilling workforce needs, contributing to the research and development enterprise, and spurring cultural innovation.
Building a strong strategic communications plan to improve the public's opinion of the master's degree requires good data. Our new, NSF-funded project, Understanding Roles of Master's Education in the STEM Workforce, will expand our grasp of how master's education prepares the STEM workforce by examining the extent to which skills, expertise, and competencies instilled through master's education align with rapidly evolving jobs and industries of the future. This is critically important for graduate programs seeking to better align their curricula with core competencies and to make career outcomes more transparent to prospective students. In addition, we want to address the role of master's programs in creating a more diverse STEM workforce. The value of this project is echoed by members of the CGS Employer Roundtable, who believe the outcomes will help employers better understand the role of master's education in preparing students for careers in critical STEM fields.
In addition to the master's and the STEM workforce project, we are wrapping up our NSF-funded RAPID project, Investigating Challenges to Matriculation and Completion for Underrepresented STEM Graduate Students during the COVID-19 Pandemic. Back in mid-2020, CGS began a collaboration with the Council for Opportunity in Education (COE) and the Council of Historically Black Graduate Schools (CHBGS) to understand the new obstacles the COVID-19 pandemic presents to the matriculation, persistence, and completion of historically underrepresented scholars.
The grant support allowed CGS, CHBGS, and COE to hold focus groups and host a two-day virtual event. During the convening, graduate education leaders discussed and curated emerging evidence-based practices and approaches that mitigate the adverse impacts of the pandemic for URM scholars as they pursue graduate education in STEM fields. We identified four significant barriers that offer potential points of intervention:
Disproportionate caregiving burdens
Career uncertainty
Staying connected to prospective graduate students who took a "gap year"
Supporting current graduate students in a virtual space, most critically in research experience and mentoring.
One significant finding from our research indicates that the pandemic changed some students' plans for postgraduate education. About 30 percent of women and 20 percent of men reported their intended first graduate degree has changed. All students interviewed are part of the McNair program, which is specifically designed to prepare students for doctoral programs. We think it's reasonable to expect that many of those students decided to pursue a master's degree first. This connects with other data that demonstrates the master's degree can also be an important pathway to doctoral study, particularly for students from historically underrepresented groups. We have presented our findings at CGS meetings and webinars and at the COE Annual Meeting, an American Association of Physics Teachers webinar, and at the McNair Promising Practices Institute. You can learn more on our website.
We will, of course, continue our work on PhD career pathways and will be releasing new research briefs in the coming weeks and months. We also have a cooperative agreement with NSF (#2105723) to lead the Innovations in Graduate Education (IGE) Innovation Acceleration Hub, which is designed to foster learning and collaboration among awardees of NSF's IGE program and the broader STEM graduate education community. Our role will be to amplify the impact of the NSF IGE grantees' projects by providing mechanisms to support creative, widespread, and sustainable change across U.S. graduate institutions.
We have a lot of exciting projects planned in 2022, but of course our first priority is always you, our members. We would not be where we are without your consistent support and engagement. After a successful 2021 Annual Meeting in New Orleans, we are planning to meet in-person for the 2022 CGS Summer Workshop and New Deans Institute in Minneapolis (July 10-13). Your safety remains a top concern, so we will continue to have strict COVID-19 protocols this summer. I do hope you will consider attending.
While I think we can all agree that returning to a pre-pandemic "normal" isn't possible, together, we can forge a new path, armed with lessons from the past and determined optimism for the future. Let's get to work.