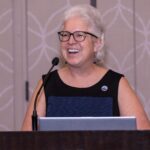 Serving as the first virtual CGS dean-in-residence (DIR) created many opportunities for deeper engagement with CGS staff and colleagues across member institutions. Each DIR typically chooses to work on a particular topic or issue, and my focus the past year was identifying antiracist and social justice strategies and resources for graduate education. I'm pleased to share the final product with you: Social Justice and Anti-Racism Resources for Graduate Education, which is available to browse on the new CGS website.
Types of Resources
The resources I curated are arranged in several categories by general theme, and within each theme by format (e.g., books, articles, videos, websites, podcasts, etc.). The themes included are:
General Overview

Graduate Education/Higher Education
Societal Background: Setting the context for discussion and action on social justice and anti-racism

Holistic Graduate Admissions
Culturally Aware Mentoring
Discipline-Based Examples
Using These Resources
The resources included are intended to help support reflection, dialogue, and action by graduate education leaders, faculty, staff, and students interested in social justice in graduate education programs and institutions. Many of the resources focus on anti-Black racism while others focus on or include Asian-American, Indigenous, Latino/a/x, or Pacific Islander communities.
Graduate educators may find these resources useful for providing background information to inform their work on social justice issues in graduate education, or for sharing directly with members in their communities. Many of these resources may be useful to read, watch, or listen to in facilitated groups, with prompts developed locally to stimulate questions and discussion appropriate to the local campus context. Some resources may be particularly helpful in identifying potential actions and motivating a commitment to programmatic or institutional change.
Many thanks go to the various individuals, websites, and publications that provided suggestions and insights regarding potentially useful social justice resources for the graduate education community. This list of resources is not exhaustive, nor is inclusion in this list an endorsement of all ideas in any specific source. Rather, these resources are intended to be used by graduate educators and graduate education communities to prompt reflection, questions, discussion, and action toward supporting social justice in graduate education programs, systems, processes, and institutions. Graduate educators may use this list as a starting point, select from it, or build on it over time. My hope is that this set of resources encourages reflection, dialogue, and action toward more inclusive graduate education.