A new year brings new opportunities, and it's a great time to look ahead to the trends and issues in graduate education. I've spent this month reflecting on the internationalization of graduate education and how we can better serve international scholars and create more global networks.
We first need to address some of the issues facing graduate students, international and domestic, and look at how we can prepare ourselves and students for a new global education landscape.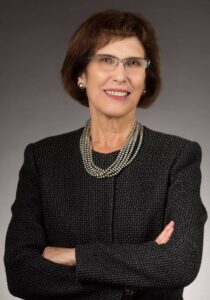 Current Issues in Internationalization
In recent years, we have seen some major shifts in graduate education, especially regarding international enrollment rates. In Fall of 2019, international graduate enrollment rates increased for the first time since 2016, but those gains were reversed for first-time enrollment in 2020 due to high Covid-related deferments. In Fall of 2021 we saw another reversal, this time an increase in first-time enrollments of international graduate students. Essentially, students from two applicant years enrolled in the same year, with the deferring students expanding the ranks of the subsequent year's enrollees.
For the first time in five years, the rate of increase of applications from India surpassed that of China. In fact, graduate applications from Chinese nationals decreased by 16 percent between Fall 2020 and Fall 2021. Despite ebbs and flows, the decrease in Chinese students reveals our vulnerability in relying heavily on only one nation or region of the world for the students and scholars who bring much needed ideas, cultural capital and entrepreneurship to our programs and workforce.
It's difficult to say what long-term effects the pandemic will have on international graduate education, and graduate education in general, but we are already seeing some clues. Many universities, in the U.S. and abroad, pivoted to online learning and now many students have come to expect an online option. This is an issue for international and domestic students, especially when we consider how isolation has led to students feeling less connected to their institution. We were ill-prepared to meet the social and mental health needs of domestic students, let alone those of international students, that had to weather the pandemic away from their families and home.
There are key issues we need to address and prepare ourselves for the continued internationalization of graduate education. For our international students, we need to assess our current recruitment strategies to create new models and networks of collaboration. For our domestic students, we need to elevate opportunities for international experiences and ways to gain global competencies. Addressing cultural and language barriers should be a concern for all educational institutions around the world. Improving mentorship by applying best practices and building networks between the Global North and South are ways we can improve graduate education in a globalized world.
Expanding and Diversifying our Connections
Over-reliance on student applicants from a small number of countries can create problems for enrollment goals when geo-political tensions or in-country issues hinder mobility. More important, expanding the international applicant pool is good for research and education on our campuses. To benefit from the diversity of international perspectives, we will need to acquaint ourselves with new universities and higher education systems, especially the Global South.
To achieve this diversification, we need to assess and design infrastructure that supports internationalized graduate education. Our institutions in the Global North must create this infrastructure in partnership with Global South institutions to ensure equitable collaborations.
For example, Morgan State University partnered with the African University College of Communication in Ghana to create a program that will award Morgan State graduate degrees in business and journalism in Accra, Ghana. Programs like this create actual partnerships and help build networks needed for scholarly collaborations to foster research that addresses global challenges like climate change and political conflict.
Improving Mentorship
As North American universities continue to develop their international activities, we should continue to identify opportunities to find common ground with leaders in other countries. As CGS's Global Summit program has shown, consensus can be achieved in conversation with deans and other leaders around the world. This activity supports collaboration and creates some consistent standards of quality for graduate students moving across different educational systems.
Last November, the Strategic Leaders Global Summit convened at The American University in Cairo to consider the ways colleges and universities could improve mentorship. Education leaders from 14 countries that attended the Summit just released their Statement of Principles and Practical Actions that will consider the "whole student" and their diverse needs. This group also stated that deans, administrators, employers, funding organizations and students all have roles to play in supporting healthy mentorship and creating a culture of caring that supports both mentors and mentees.
The principles state that mentorship should be viewed as a collaborative process between the student and the mentor, where each has a role to play. Mentors should respect the student's need to maintain positive mental health and well-being and to balance the demands of research and personal life. Mentorship should support students' interest in taking intellectual risks and contributing to new scholarly paradigms. Mentorship is also most effective when all parties embrace career diversity and support methods to generate new knowledge for public benefit.
Learn more about the Summit and the full principles and actions and see the papers that were presented. This work can be applied to all students and educational institutions involved in graduate education.
Final Thoughts
It has never been clearer that solutions to the grave challenges of our time – climate change, inequality, economy, etc. – depend on developing a cadre of scientists, engineers, and scholars who understand the social, economic, cultural contexts in which their proposed technological, policy or other solutions will be deployed. Our Career Pathways data show that PhD alums value multiculturalism. So do the multinational companies who will employ them. The internationalization of graduate education is here, and this calls for new modes of collaboration. Where there is a will there is a way.