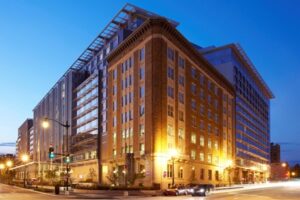 Accommodations and Travel
 
Hotel Reservations
The Marriott Marquis Washington DC is ideally located in City Center and an easy stroll to Mt. Vernon Square, the National Mall, famous shopping and other sites in the downtown DC area. The expansive lobby is majestic with its white marble atrium and custom 55-foot sculpture. Hotel features include guest rooms with a city or atrium view; a variety of dining options; and the 8,000-square-foot, bi-level fitness center featuring leading-edge equipment, to maintain your fitness routine.
Click here to make your room reservation online at the CGS group rate of $239/night. To reserve by phone, contact the Marriott Marquis Washington, DC at (800) 228-9290. To receive the special CGS meeting rate please indicate you are a CGS Annual Meeting attendee when making your room reservation. Reservations at the group rate will be available until November 10, 2023.
A room tax of 15.95%, per night occupancy will apply to the rate, which will be available for three days prior to and after the meeting based on hotel availability. Reservations are not guaranteed—please make your room reservation as early as possible. Reservation requests received after November 10 will be accepted by the Marriott on a space-available basis based on the hotel's prevailing rates.

Travel to Washington
Airports: Washington, DC is serviced by three major airports. Ronald Reagan Washington National Airport is within 5 miles of the Marriott Marquis by taxi/ride share or metro. Dulles International Airport is 28 miles by taxi/ride share or metro. Baltimore/Washington International Airport (BWI) is approximately 32 miles by taxi/ride share; shuttle and train service are also available. Travel times will vary depending on traffic.
Train: Amtrak services Union Station in Washington, DC, and metro and taxi/ride share service are available from Union Station to the Marriott Marquis.

What to Wear
Weather: December daytime weather in DC is usually in the 40s and 50s. Be prepared for some unseasonably warm or cold weather in this city on the Potomac River.
Meeting Attire: Business attire is appropriate for all meetings, receptions and meal functions.