Today's graduate and undergraduate students are in a much different place financially than previous generations of students.  Rising debt levels can cause some students to defer graduate study or to decide that a graduate degree is not for them. At a time when public funding for education is decreasing and student debt is rising, more students are taking on debt to support their educational aspirations.
In August 2022, President Biden announced the  inclusion of graduate student loans in his Student Loan Debt Relief plan, which allows up to $10,000 in a one-time cancellation. CGS welcomes this inclusion; read the full statement here.
To help students learn how to successfully manage their finances and educational costs, the Council of Graduate Schools, funded by a grant from TIAA, a leading financial services organization with a long history of serving those in the academic, research, medical and cultural fields, launched a three-year project to enhance the financial literacy of graduate and undergraduate students.
Project Goals
Participating colleges and universities designed programs that prepare students to play an active role in managing their personal finances and making informed decisions about saving, spending, and borrowing. The institutions addressed the needs of different groups of students, while considering factors such as their field of study, degree levels, and chosen career pathways, each of which has significant financial ramifications. CGS and partnering institutions collected and analyzed data to inform the development of innovative, new tools and resources for students.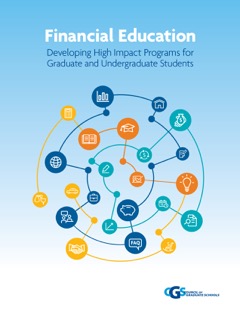 Key lessons and data from this groundbreaking program are available in the report Financial Education: Developing High Impact Programs for Graduate and Undergraduate Students. Through this initiative, CGS and partnering universities developed and delivered high quality financial literacy programs, assessed the impact of those programs, and documented best practices. Financial Education illustrates these efforts in-depth and provides diverse and innovative models and practical resources for helping produce and shape effective student financial education programs. This book will be of particular interest to graduate deans, financial aid officers, program directors, and faculty who are interested in understanding the financial circumstances and meeting the needs of today's graduate students.