Danya Williams' mom raised her to believe that no matter what this world takes from you, no one can take your education.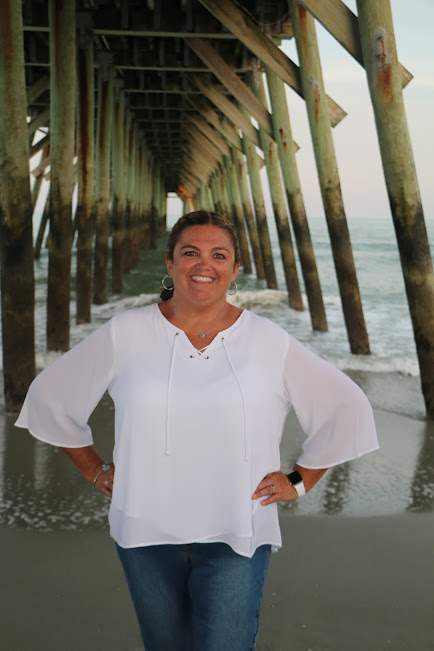 This belief is what has led Williams to her last year in her Master's of School Administration program from University North Carolina Pembroke. It's also allowed her to adapt and prepare herself for big life changes.
Williams is currently a family engagement specialist for her local school district. She works with families in the individualized education program for students with disabilities. Even though she had more than 15 years in education before she started her master's program, she wanted to have new knowledge and stay abreast of what's happening in special education.
"Teachers fresh out of their programs know the new technology and resources that are available," Williams said. "If I want to grow as a leader or be an instructional expert, I need to have that knowledge base as well."
While getting her master's will help Williams grow professionally, she's also preparing herself for an uncertain future. Her husband has been diagnosed with a terminal illness, and though they had made their lives in Fort Liberty, North Carolina, she doesn't have any family there. If she decides to move back to her home state of Maryland, she wants to make sure she is competitive for jobs.
"When my husband was diagnosed, they said it's terminal, there's nothing we can do, there's no treatment, there's nothing. Something's being taken from me; my husband's being taken from me. What can I do for me that still feeds me," Williams said. "My master's would do that. This is something that is for me and it will always belong to me."
This isn't the first time Williams has turned to education when confronted with an unknown. When she was teaching third grade, her son was diagnosed with autism, so she transitioned to working as a resource teacher so she could learn how to work with students with disabilities like her son.
"I'm an all-in type of person," Williams said with a smile. "In order to advocate for him, I needed to know the ins and outs. That's when I saw that there were other families who also didn't know how to advocate for their children."
Williams quickly realized that not all families can learn about their child's disability on the job like she did. She decided that she wanted to help families like hers.
"These kids didn't ask to have a disability. It doesn't make them less than," Williams said. "But their families don't know how to help them, so this became my new passion."
When the opportunity for her current job came up, she took it because she knew it would allow her to broaden her reach and help more families understand their child's disability and what resources are available. She says that part of her success in her role is that she knows what the families are going through.
"Nothing brings down somebody's guard quicker than knowing that we're in this together," Williams said. "For parents to see that I've done this, I've put my child through 12 years of education— and we dealt with fine motor issues, speech delays, sensory concerns— but at the end of the day, we were still able to prepare him to be successful in life."
Williams said that having the first-hand knowledge of what the parents were going through helped her communicate with them, even through difficult conversations.
"When people know that you've done it, they're much more willing to accept recommendations," Williams said. "Parents will still come back and say, 'Hey, I really appreciate you having that tough conversation. I wanted my child to have all these accommodations when he didn't need those to be successful.'"
Already her experience in her program is influencing her work. She finds herself brining up new ideas to her colleagues and recruiting them to her program.
"When I'm working with my colleagues who are instructional specialists, I'm asking them if they know about a new resource or if I have to write a paper about a student with a certain behavior, what would they do? It's encouraged different conversations at work," Williams said. "One of my colleagues has applied to my program and I have two more that I'm working on."
Williams graduated with her bachelors in 2006, and said she was most concerned about the technology gap when it came to starting her master's program in her late 40's. She says that the new technology has actually been the best part.
"It's been amazing because all of my classes are online and instead of responding to a question by posting to a discussion board, we respond by video, which allows us to put a face to a name and feel connected to our peers," Williams said. "What I was concerned about with the technology has actually been a blessing and made the program more accessible."
Williams said that being able to do all of her classes online allowed her to go to school while still maintaining all of her daily responsibilities.
"If I had to drive to a campus, I couldn't do this. There's not enough time in the day," Williams said. "To work a full-time job, manage my husband's medical appointments, clean the house, cut the grass, you know? Those things are the reality of life."
Williams is also an Army veteran and says that her experience in the military has instilled in her the discipline to push through late nights and give 110 percent even when she's had a long day. For Williams, her assignments are no different than the work she would be doing with a student or their family. She says she can't slack off on the training that will help prepare her for her job.
"Those students deserve my best. The same as my country deserved my best, so there is that parallel of having a service heart," Williams said. "Giving to my community and wanting to serve people started for me at a young age and the military really brought that to light."
For Williams, being able to continue that service in her community is important to her and her master's degree will allow her to broaden the community she can serve.
She says she has been concerned about the politization of public education, the lack of support for teachers and the decrease of students coming out of teacher programs. She fears that this will be harmful to all children and our future.
"So many children, their lives depend on us and they are our greatest resources for our future. We are preparing them for jobs that don't even exist yet," Williams said. "And that's why I am continuing my journey in education and leadership so I can provide that greatness to our students."
William's perspective on life is grounded in reality. She knows what's in in her realm of control and what's not and is doing what she can to remain optimistic about her future despite her husband's diagnosis. She even lightly jokes that we are all terminal— no one makes it out of here alive. What drives her is knowing that the work she is doing is helping others, and that will be her legacy.
"No one's going to remember what was in your bank account. No one's going to remember what kind of car you drove. Nobody's going to remember what kind of clothes that you wore," Williams said. "But they remember the way that you made them feel and the way that you impacted them. They remember the things that you did to help their children."