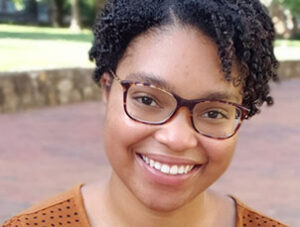 Sondrica Goines, a doctoral student in analytical chemistry at the University of North Carolina—Chapel Hill, says she's been math and science oriented since high school. Identifying her passion early has definitely paid off. She's in her third year of the doctoral program and is a National Science Foundation Graduate Research Fellowship recipient, the winner of the Winifred Burks-Houck Graduate Leadership Award from the National Organization for the Professional Advancement of Black Chemists and Chemical Engineers, a member of the Department of Chemistry's Graduate Committee for Professional Development and the Graduate Recruitment Committee, a student mentor, and hosts her own podcast, Curly Headed Chemist. Her research focuses on a group of synthetic chemical compounds called perfluoroalkyl and polyfluoroalkyl substances (PFAS) which may sound complicated, so for a bit of context, we'll start with a specific kind of PFAS.
In 1938, a chemist accidentally discovered a chemical compound called polytetrafluoroethylene (PTFE), which was ultimately trademarked by DuPont as Teflon™ in 1945. The new product was revolutionary for its extremely high melting point and was used in a variety of applications, most notably, non-stick cookware. By 1948, DuPont was producing over 900 tons of Teflon brand PTFE.
This is where Sondrica Goines and her research come in. PTFE is perhaps the best known of the PFAS, which are found in food packaging, commercial household products (e.g., Teflon), drinking water (because of the production process), and living organisms (animals and humans). In the 1990s, researchers discovered that this groundbreaking compound is absorbed into the body and can cause a long list of adverse health effects, including reproductive and developmental problems and cancers. Goines's research focuses on exactly how PFAS molecules affect our health at the single-cell level. "They are a very persistent class of micropollutants," Goines says. "If we can understand them at the single-cell level, we can better understand disease progression due to these pollutants." To learn more about Sondrica's work, visit the UNC-Chapel Hill website.
Photo Credit: Submitted by Sondrica Goines