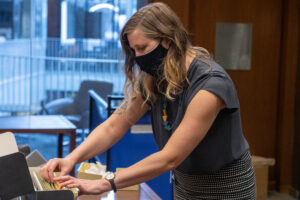 For many universities, confronting systemic racism begins with an excavation of the institution's own history. In 2013, Johns Hopkins University (JHU) leaders began a project, Hopkins Retrospective, to explore and better understanding the institution's history with a focus on its legacy of slavery. At the time, the university's founder, Johns Hopkins, was known as a dedicated abolitionist and philanthropist. He bequeathed $7 million to establish the nation's first research university and a hospital that would serve the poor "without regard to sex, age or color." That established historical narrative of JHU's founder is now in question.
Allison Seyler, a master's recipient in history from the University of Maryland Baltimore County (UMBC), has helped uncover evidence that Hopkins did in fact own slaves. In her role as program manager for the Hopkins Retrospective project, Seyler and Dr. Martha Jones, professor of history at JHU, discovered U.S. Census records indicating that Hopkins had slaves in his household in both the 1840 and 1850 census. Jones and Seyler are now taking their research one step further: to better understand how the false history of Hopkins as a non-slave owning abolitionist came to be.
Seyler's work is a valuable example of graduate students' contribution to essential research that helps us better understand the troubled history of race in higher education. When asked her reaction to uncovering the census records, Seyler said, "It was jarring. When you work at [Johns Hopkins] and learn the history of the university, and then find something so antithetical to what you've learned, it's a bit shocking." Jones' and Seyler's work has garnered significant attention, with features in The Baltimore Sun, The Washington Post, and The New York Times. Visit the JHU website to learn more about the Hopkins Retrospective project and the university's feature on Jones' and Seyler's archival research.