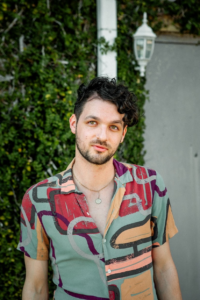 The relationship between literature and LGBTQ+ health may not seem obvious, but for Jack Hoda the fit is seamless. Jack is finishing his master's in English Literature at the University of Southern Mississippi this spring and the past two years of graduate school have taught him many things, among them the incredibly transferable value of a humanities education. When he graduated from undergrad in 2019 with a degree in English, Jack always intended to become a teacher, but the rewarding and passionate work of community organizing and public advocacy continually pulled him away from full-time teaching.
Throughout his career, Jack has worked primarily on political campaigns and with nonprofit advocacy groups on a range of issues from voting rights to LGBTQ+ inclusion. While in academia, Jack has focused his scholarship in contemporary fiction, queer theory, and sexuality studies. He views the realms of scholarship and grassroots activism as inherently symbiotic, and this view informs his next step in his post-graduate career.
Following graduation, Jack will move to Asheville, North Carolina to assume the new role of new LGBTQ+ Health Coordinator at the Western North Carolina Community Health Service (WNCCHS). At WNCCHS, Jack will primarily act as a patient navigator for people living with HIV and for transgender patients seeking trans-affirming care. Additionally, Jack will work on special projects to expand accessible, quality care for LGBTQ+ patients in Western North Carolina. These special projects will include deploying LGBTQ+ cultural competency trainings for rural health clinics; developing a more integrated PrEP program across the health center structure; and working with local, state, and national partners to create better health care environments for LGBTQ+ patients. Jack's unique experiences working in a variety of institutional settings and his rigorous graduate education position him to succeed in a role so ingrained in community and interpersonal development.
Jack's journey is an example of how skills developed in humanities graduate programs can translate into diverse career pathways. Click here to learn more about CGS's Career Pathways initiatives for master's and doctoral students.
Photo credit: Blair Ballou