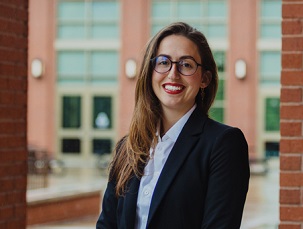 Ava Fergerson, a recent master's degree recipient in psychological sciences at Western Kentucky University (WKU), spent four years working with Dr. Amy Brausch in WKU's Risk Behaviors & Suicide Prevention Lab. Fergerson wants to better understand suicidal thoughts and behaviors in young adults who are sexual assault survivors.
Her interest in the work began as an undergraduate at WKU when she began volunteering at Hope Harbor, a sexual trauma recovery center, in 2016. "I was really motivated by Gender and Women's Studies educators to get involved in service as a way to benefit the community," she said.
Fergerson's graduate work used research psychology to benefit sexual assault survivors. Her master's thesis, An Application of the Interpersonal Psychological Theory of Suicide in College-Age Survivors of Sexual Assault, considered the "applicability of the Interpersonal-Psychological Theory of Suicide (IPTS) to suicide risk in survivors of sexual victimization." IPTS is used to both better understand suicidal behaviors and to identify those at risk and is based on the theory that a suicidal person must overcome their own fear of death through a combination of "thwarted belongingness" and "perceived burdensomeness." One of Fergerson's findings is that perceived burdensomeness was a predictive factor for suicide ideation but thwarted belongingness was not for sexual assault survivors.
Her exceptional work has not only received attention from her peers, but also spurred her to deeper study. While at WKU, Fergerson received numerous honors, including the Catherine Coogan-Ward Feminist Action Award from the WKU Gender and Women's Studies program, Outstanding Graduate Student in the Department of Psychological Sciences, and the John D. Minton Graduate Student Award. She's currently pursuing her doctorate at the University of Southern Mississippi in clinical psychology. To learn more about Ava's work, visit the Western Kentucky University website.
Photo Credit: Bryan Lemon, Communications and Marketing Staff, WKU