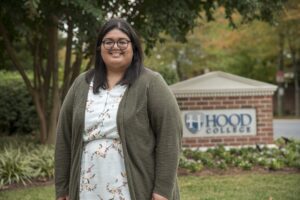 Shabana Sayed, a master's degree student in educational leadership at Hood College, has been an educator for Frederick County Public Schools (FCPS) for eight years. She's served in a variety of leadership roles, including as the Science Department Chair at Walkersville Middle School. Sayed is currently working with Frank Vetter, an adjunct professor in Hood's educational leadership program, to open Frederick's Middle School Blended Virtual Program. The new blended program will follow the same academic calendar and student will attend synchronous daily classes, while assignments and some class activities will be asynchronous.
The new program is being developed after educators realized that the shift to virtual learning due to the COVID-19 pandemic was more beneficial for some students than in-person learning. When Sayed learned about the new virtual program, she was intrigued. "I saw this as a unique and exciting opportunity to broaden my teaching experience while also allowing me to serve a role in opening a new program that will benefit students across the county," said Sayed. "Once I learned that Mr. Vetter was appointed principal of the program, I knew that this was something I wanted to be a part of. He is an incredible leader and working with him continues to be very valuable and fulfilling. I am excited to be part of a program that is using informed practices and instructional strategies to serve our students!"
Sayed aspires to be a school administrator and believes the experience she's gaining as part of the blended virtual program is invaluable. She chose to pursue her master's degree at Hood, in part, because of its unique partnership with FCPS. "Attending Hood College has helped me to connect and collaborate with other FCPS educators across the county. I believe that my time at Hood will help me in my career because of the connections I have been able to make with FCPS leaders and administrators." To learn more about Shabana's research, please visit the Hood College website.
Photo Credit: Hood College Marketing Team