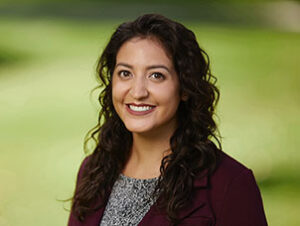 Ariana Garcia, a CGS summer intern, is originally from a big city in New Mexico, but she was raised in a small, college town in Washington State. Her dad moved the family to Pullman for the protected environment and better opportunities. As Garcia says, "It was definitely a safe town, which was great, but I could count the people of color on one hand. That experience brought a whole other set of issues, including an identity crisis, as I tried to find my place. So, when I went to college, I wanted to meet other people of color, more people who looked like me." Garcia chose to do that at Washington State University, in her hometown, but she found her real home in WSU's McNair program.
The WSU McNair director, Raymond Herrera, encouraged Garcia to consider the program. He knew she would be a great fit, and they both knew that with aspirations to become a counselor, Garcia would need to go to graduate school to be able to practice. Learning to be a researcher is a key part of McNair, and while Garcia knew that it would be great preparation for her advanced study, it wasn't something she had much interest in at the time. As Garcia says, "I thought to myself, I don't want to do research, but I do want to go to grad school. So, I'll do this program and the research, but just to help me get to grad school."
Then Garcia joined a research project that looked at how media was related to sexual violence in relationships, and how media informed adolescent college students and their perception of relationships. She got involved in the project and started presenting her findings at undergraduate research conferences. She fell in love with it, but she still wanted a career that would allow her to help people.
So, Garcia applied to master's programs in counseling and chose to attend Colorado State University, where she earned her master's degree in counseling. "I liked it, but it wasn't fueling me. The only time I felt very passionate about what I was doing was when I was doing research. I always joke that McNair bamboozled me into liking research and set me on a whole different trajectory," says Garcia. She started working in realms where she could use her counseling skills, but not as a therapist, and ended up in student affairs. She worked with scholarship groups for First Generation college students and undocumented students and enjoyed it, but she missed research. "I noticed the CSU students were having similar challenges as the WSU students. I realized these are such large systemic issues, and that's what compelled me to pursue my PhD."
Now, Garcia is a doctoral student in higher education at the University of Nevada, Las Vegas, focusing on equity in graduate education. Each year, she also mentors five undergraduate students who are interested in graduate school. She enjoys working with the students and helping them navigate the hidden curriculum of graduate education. She credits her mentor, Dr. Herrera, for setting an example of good mentorship. He still calls her the first week of classes to check in and see how she's doing. Garcia believes that having a good advisor and mentor improves your entire experience. She hopes to continue that work as a faculty member after she finishes her doctorate.
Garcia says her best advice for prospective graduate students is to talk to as many people as possible and to connect with people who are in roles similar to your interests. But, she says, "The number one thing is to look for funding opportunities. Most people have never heard the word assistantship before. When I was beginning my master's at Colorado State, I met with a professor, who ended up being my advisor, and asked about available assistantships. She said that she was actually looking for someone, and then she hired me. I was the only person in my cohort who had an assistantship and everyone wanted to know how I got it, and all I did was ask. I credit that to McNair, because they prepared me. They told me to ask."