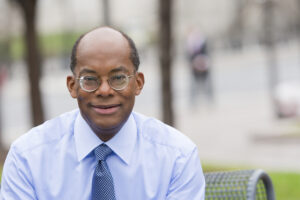 To say Roger W. Ferguson, Jr., president and CEO of TIAA and CGS Employer Roundtable member, has an impressive resume is a bit of an understatement. He holds a B.A., J.D., and a Ph.D. in economics, all from Harvard University. He's the former Vice Chairman of the Board of Governors of the U.S. Federal Reserve System and held executive positions at Swiss Re America Holding Corporation and McKinsey & Company. Roger is a member of the Smithsonian Institution's Board of Regents, a fellow of the American Academy of Arts & Sciences and co-chairs its Commission on the Future of Undergraduate Education. He serves on the boards of several large corporations and philanthropic organizations and was a member of President Obama's Council on Jobs and Competitiveness. And the list goes on…and on.
If you've heard him speak, you know he's a commanding presence and someone who has routinely used his platform to talk about issues most important to him: education, financial literacy, and ensuring a diverse workforce.  In 2019, Ferguson was awarded the Harvard Centennial Medal, the highest honor bestowed by Harvard University's Graduate School of Arts and Sciences for "contributions to society as they have emerged from one's graduate education at Harvard."
As Roger prepared for his upcoming retirement, we talked to him about the role education has played in his life, the value of graduate education, and fostering a culture of diversity, equity and inclusion.
You often talk about the importance of a "lifelong learner" mentality. How has that way of thinking advanced and impacted your education and career trajectory?
I've always believed that education is the great equalizer. Growing up, my mother was a public school teacher and emphasized the value of education. She always told me, "Education is the one thing they can't take away from you. They can't deny that degree."
But education in my life was not limited to the classroom. Equally as important was a family environment that valued education outside of the classroom, such as conversations around the dining room table. For me, those conversations consisted of financial literacy, as my father – who grew up during the Great Depression – was interested in interest rates and savings. So while my formal education continued to when I was nearly 30 years old, my desire to always keep learning never faltered.
Every job I took, I looked at as an opportunity to continue to learn something new. Sometimes what I learn may not feel great – like learning about things I don't do so well. Sometimes it's a new fact or new information. But it's all about continuing to learn and grow. I've long viewed my career more like a climbing wall than the traditional career ladder. Your career path may not always be a straight line. Instead, it could be a series of vertical and lateral movements. The key is always to keep growing – and that mindset has allowed me to take on some fascinating challenges that might not have come my way if I had thought about my career in a purely linear way.
As an employer, what is the value of hiring staff with advanced degrees?
Companies need individuals with all types and levels of degrees to fulfill unique and technical roles. But most importantly, all organizations require employees who have the critical thinking skills to identify challenges and recognize patterns to find a solution. Employers are increasingly aware of the value of postgraduate studies, as an advanced degree can help employees become subject matter experts in their field, and in turn provide valuable insights and solutions to both their employer and their customers. Advanced degrees can also enhance an employee's leadership and management skills, two critical components in a professional environment.
Furthermore, employers must hire from a diverse set of candidates, not solely based on their degrees or experiences on paper. Diversity, equity and inclusion should be at the heart of decisions about recruiting, hiring, and developing employees, and selecting directors and leaders. Not only is it the right thing to do, but it's also a business imperative. Studies have shown that more diverse companies have better outcomes, which benefits all stakeholders: employees, shareholders, and customers.
Your company does a lot of work to address complex societal challenges. Would you tell us a little about one or two of those initiatives and your role in them?
At TIAA, one of our core beliefs is that financial education and financial literacy programs can help make finances more inclusive for all Americans. Through our programs like FinSights (which leverages key findings from research conducted with CGS and more than 30 leading universities) and partnerships with EverFi and Savi, we're working to educate Americans about their financial options and well-being to help close the wealth gap in the U.S.
We also work to foster a culture of diversity, equity and inclusion – it's a key pillar of who we are as an organization. Through our Be the Change platform, we empower our associates to make a difference in their workplace and communities by bringing people together to build awareness, promote dialogue and connection, and engage in anti-racist advocacy.
I believe that CEOs must be held accountable for enacting change to achieve a more diverse and inclusive culture. Employees will take their cues from what they see the C-suite saying, and more importantly, doing. Over the last year, I'm pleased that we've seen a concerted effort across corporate America to address the racial, social and economic injustices too many folks in our country have endured.
What advice do you have for students – particularly minority students – thinking about graduate school?
Being an African American is part of who I am, but it doesn't define who I am. I think you have to balance whatever the differences may be versus what is not different. Everyone has something different about them. So I would say respect it, recognize that in ways you are different, but don't become overly fixated on the differences.
You have to be prepared to take some risks and maybe make mistakes or fail from time to time. I urge all students, regardless if they decide to pursue a graduate degree or not – to develop as expansive an education as possible, rooted in skills and life experiences that will help shape them as individuals. Education doesn't stop with that last degree you get from formal education; it's all the day-to-day learning. And most importantly, seek out opportunities that enable you to continue to learn once you're in the workplace.
How will higher education system and accompanying student debt evolve as a result of the coronavirus pandemic?
The coronavirus pandemic has had an unprecedented impact on higher education institutions and their students. As we look at the long-term impact, the future remains uncertain but hopeful. There are many different types of higher education institutions, it's not one monolith. Larger institutions may be able to navigate the financial challenges through larger endowments and more access to fundraising. Smaller liberal arts schools may find the tuition challenges to exist for quite a while as they may not have the endowments to fall back on.
We should recognize that some things aren't going to change. There is evidence that in-person education remains strong, but it also goes beyond the classroom. We've seen a number of schools reimagining how they use online capabilities in addition to in-person, and investments in those technologies will continue.
As challenging as it is, it is still very important to complete education. The economic results for students who have completed their degrees are much better than those who have not done that. Even though it's a challenging time, students should aim to finish their programs.
I'm a firm believer that the higher education sector will continue to be an engine of growth for the American economy and will continue to be a place for individuals to find their opportunities and to create their own futures.
Visit the GradImpact Feature Gallery to learn more about the amazing, innovative research being done by graduate students and alumni across the world.