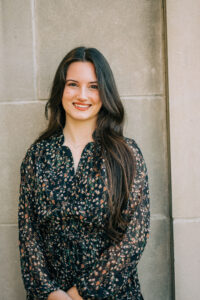 During Lindsay Powell's first year as a social work intern with a city school district in Bowling Green, Kentucky, a catastrophic tornado tore through their community, upending the lives of many of the residents. She said there were many kids in the school district who lost loved ones, their homes, or both.
"You could see how an event like that really impacted the district as a whole," Powell said. "I just think about how I or my family would feel in that situation."
For Powell, who graduated this May with her master's in social work from Western Kentucky University (WKU), watching the social workers at her internship help families find housing and provide counseling support, solidified for her how important social work was to communities.
"That really touched me, and I think that being a master's student and having that experience of working hands-on in that way changed my perspective of what social work was and what it could do," Powell said. "I also think about, if one day I do have kids, who's going to be there to help assist them, or anyone in the community, in that way?"
Now that she has graduated, she intends to do clinical work in Louisville, Kentucky, and then eventually get her PhD in social work. She wants to focus on community mental health, especially around children and families.
Her desire to specialize in this area stems from her second year in the program, when she worked at a transitional living facility for women struggling with substance use disorder. This facility was unique in that it allowed children to live with their recovering parent, rather than going into foster care.
She got hands on experiences working with the moms and their kids, helping them learn how to parent and get through their day. She cites this role and her internship as being instrumental in how she sees the impacts of social work improving communities over time.
"It just makes you think about the long-term impact of those processes because it's really about helping people in some of the worst moments of their lives, which in turn can also help break cycles," Powell said. "I could see how that improves the community over time, even in just that two-year span of work that I did. I see it improving communities for myself, for my kids, for other people's kids and just down the line."
Powell got her undergraduate degree in psychology, but she wasn't totally sure what she wanted to do for a career. Back then, she said she also didn't really understand what social workers did and it wasn't until she started working in advocacy center that she understood the full scope of what it meant to be a social worker and the many career possibilities.
"Through my master's program, I saw social workers that are therapists, they're working in schools, they're child welfare workers, they're in court rooms, they're community organizers, they're advocates in hospitals, researchers at universities and substance use counselors," Powell said. "At the master's level, it gives you the ability and the training to do so many different things depending on what you decide to specialize in."
While getting her master's, she's also had an opportunity to do research which has given her experience helping a community as a whole. She became a graduate research assistant with the LifeSkills Center for Child Welfare Education and Research (LCCWEAR) at WKU. There she worked with her mentor, Dr. Austin Griffiths, director of LCCWEAR, on a project that used biometric devises to measure the stress and impact of the stress on frontline child welfare workers.
"These are social workers- they know they're stressed and that their day to day is hard. The biometrics showed us the physiological impact of their stress," Powell said. "We're seeing stress that's happening 23 hours a day. If they are in bed sleeping for eight or seven hours, they are still stressed, even when they are completely asleep."
They have already written a couple papers on this research, and she hopes the research continues so they can drill down to the sources of the stress and help improve the lives of social workers. She also feels that this exposure to applied research has given her skills as a social worker to tackle more systemic community issues by using research to affect policy change.
"Through my master's degree, I learned how to use that research for advocacy," Powell said. "We have sent that research to our local representatives with the goal of policy changes to positively impact social workers."
Powell said that all of these experiences from her master's program has prepared her to serve her community, whether it be addressing individual's needs or larger, community-wide issues.
"I went into my master's program with a strong desire to learn, be trained, and really wanting to make an impact on my community. I never imagined that I'd be presenting at national conferences," Powell said. "What was important about my degree is that it built up my confidence. I am a completely different person than I was two years ago when I started that degree. It helped me find my voice."