Growing up poor in Los Angeles, California, Da'Shay Templeton moved around a lot. She has lost track of how many different schools she attended during her childhood. Due to open enrollment policies, sometimes she went to schools that weren't necessarily in the same neighborhood where her family could afford to live.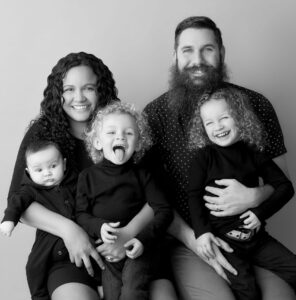 "I really got a chance to look at different types of schools. I went to all white schools that had more funding and better teachers," Templeton said. "I had a great time in those schools and I learned a lot. Some of the best teachers I've ever had were at predominantly white schools."
There were other times she went to schools in her neighborhood and had a very different experience.
"On the flip, side, you have schools that had predominantly Black and Latinx students, and some of the worst teachers," Templeton said. "Lots of security officers, lots of delinquency, lots of fighting and stuff."
Templeton remembers being aware of the disparity between the different schools and the impact those differences had on her and others.
"It was so crazy to me that you could have these two different realities. That across schools, the amount of educational opportunity could be that different," Templeton said.
These experiences are what drive Templeton, who is a Black Indigenous Puerto Rican, and is pursuing her doctorate in education at Florida State University. After receiving her master's degree and teaching certificates from San Francisco State University, she started looking for doctoral programs that would prepare her for a research faculty position in education policy.
"I always wanted to be a doctor, and I always wanted to be a teacher, and so for me, faculty researchers are the best of both worlds," Templeton said.
While at FSU, she earned funding from four prestigious fellowships and awards, which has made it easier for her to start her family while in school and raise her three boys. She won the Ford Dissertation Fellowship, which seeks to increase diversity of the nation's universities by supporting racially diverse graduate students. She also received the Philanthropic Education Organization's Scholar Award, a one-time merit-based award that recognizes academic excellence and achievement by women in doctoral programs.
Templeton said her critical quantitative dissertation investigates the experiences of school children who identify Black, Hispanic, cisgender, and genderfluid in American public schools. In her research, she prioritizes the historical and contemporary experiences of what it means to be labeled with these classifications.
Public education has been linked to better health outcomes and more wealth, and reduces prison recidivism rates, which is why Templeton sees public education as the way to help the most people. At a young age she was able to connect that continuing your education past high school and into college would impact a person financially.
"I knew one of my aunts had a degree, and she had more money than us and a house," Templeton said. "I thought that if everyone could get a degree, you could pull your people out of poverty. I had a lot of hope on education and what it could be."
Templeton feels that these early experiences give her a unique perspective as a researcher. She feels that representation matters, even in research, and she has a better understanding of the nuances of what it means to be a poor, racialized minority.
"Sometimes, when researchers do research on Black Americans or people in poverty, they use deficit language," Templeton said. "They say, 'lack of educational achievement' or 'educational attainment.' Really, it's a lack of educational opportunity.
"Money helps create opportunities, and there is a lack of money. Black Americans aren't performing worse on all these educational outcomes. It's the lack of educational opportunity that is creating these outcomes. We should be asking what that says about the schools and the community, not the individual students."
Templeton sees the role of researchers as people who can have a big impact on changing policies that improve educational outcomes. She points to an example of a researcher in California who developed the local control funding formula, which gave disadvantaged students more money, and lobbied hard to make that policy change happen.
"That affected the whole state and it's probably the most progressive per student funding mechanism in the country," Templeton said. "I think you can do a lot as a faculty researcher. You can affect individual people on the ground every day."
Templeton is expected graduate this May and has big plans for when she lands a faculty researcher position. She has already started thinking about areas she would like to focus on in her research. She plans to first look at the intersections of poverty and race on physical fitness in children, and then look at states that still allow corporal punishment in schools.
It hasn't been easy raising three kids while also getting a doctorate but Templeton says she has help from her mom who watches her kids and has had support from two advisors.
"I want to give a shout out to my advisors Dr. James Wright and Dr. Lara Perez-Felkner," Templeton said. "They really helped me a lot with advice and were just really a great support system."