CGS Virtual 3MT® and Showcase: Featuring Winners of the 2021 Regional 3MT® Competitions
Universities and regional organizations of graduate schools are launching 3MT® competitions to help prepare graduate students to communicate the value of their research to a broad audience. This virtual event showcased the winners of regional competitions and concluded with a roundtable discussion and People's Choice award. Students reflected on their experiences, offering insights that can help graduate schools develop successful 3MT® competitions-- even in virtual environments-- and other programs designed to hone students' communication skills.
3MT® Showcase Support Provided by ProQuest, part of Clarivate.
Presentation Slides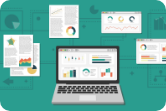 Thank you to ProQuest, part of Clarivate, for supporting this event.
ProQuest is providing CGS members with a sneak-peak at some upcoming features being added to ProQuest Dissertations & Theses Global. To learn more about Citation Connections and how they can accelerate and focus research as well as connect your own research to others, download the flyer.